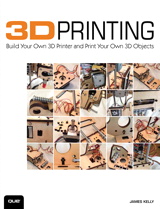 You can also view our complete catalog here
Description
Want something? Print it–with your own 3D printer!
Right now, you can print practically any 3D object you can imagine–from toys to gadgets to replacement parts, and beyond! All you need is a 3D printer…and they're simpler and cheaper than you ever imagined. This full-color, step-by-step guide will get you started–and if you want, it'll even walk you through building your own 3D printer from an inexpensive kit.
Packed with colorful photos and screenshots, it explains all the crucial details other books skip. You'll walk through choosing and assembling your new 3D printer kit…brainstorming and designing new objects with free software…and then printing them on your brand-new 3D printer.
3D printing is today's hottest new technological revolution, and this book takes you right to the cutting edge!
Discover how 3D printers work and what you can do with them

Compare and choose your first 3D printer–either pre-built or kit

Assemble Printrbot Simple, one of the world's easiest 3D printer kits

Install and configure software that tells your 3D printer what to do

Print your first 3D project from an existing object file

Use free Tinkercad software to create your own original 3D models

Explore AutoDesk's free software for 3D printing

Use Print-It-For-You services for projects your home printer can't handle

Find great 3D printing projects and models on the Web

Imagine creative new uses for your 3D printer
Table of Contents
Introduction 1
Chapter 1 The Big Question—What Is 3D Printing? 3
What Is a 3D Printer? 3
Say Hello to Plastic! 6
Solid to Liquid 8
A Different Type of Motor 10
3D Objects Require Three Axes 12
A Few Other Items 16
Chapter 2 Find Yourself a 3D Printer 17
3D Printer Options to Consider 17
Initial Cost 18
Ease of Assembly and Tech Support 23
Operating System Compatibility 24
Cost and Type of Filament 25
Resolution/Nozzle Diameter 26
Print Bed Size and Leveling 27
Do Your Homework 28
Chapter 3 Assembly Assistance for the Printrbot Simple 29
Printrbot Simple Assembly Part I 30
Early Assembly Observations 32
Midway Through Assembly Observations 38
End of Assembly Observations 43
Connecting All Wires 48
Finishing Thoughts 50
Chapter 4 Configuring the Software 53
Types of 3D Printing Software 54
Downloading the Repetier Software 55
Repetier Settings 56
Slic3r 60
Chapter 5 First Print with the Simple 65
Downloading an STL 66
Connecting the Simple to Repetier 68
Get the Hot End Up to Proper Temperature 70
Slice Your Object into Layers 71
Home the Hot End 73
Print! 77
Upgrades! 82
Chapter 6 Free 3D Modeling Software 83
Tinkercad 84
Examining Tinkercad 85
Wrapping Up Tinkercad 104
Chapter 7 Creating a 3D Model with Tinkercad 105
Hello World 105
Printing a Sketch or Simple Image 122
Chapter 8 More 3D Modeling Tools 129
123D Family of Apps 129
123D Design 133
123D Creature 135
123D Sculpt 136
123D Make 138
123D Catch 139
Having Fun 141
Chapter 9 Further Explorations 143
Go Bake Some Cookies 143
Don't Forget the Youngest 3D Fans 146
Around the House 147
Showing Off 147
OpenSCAD 148
Chapter 10 Alternatives to the Printrbot Simple 151
Build Your Own 3D Printer 151
Consider 3D Printer Kits 154
Kickstarter and 3D Printers 156
Print-It-for-You Services 159
CNC and Laser Cutters 160
Scanning Objects 162
Chapter 11 Where Do I Go From Here? 165
CNC Machine 166
Laser Cutter 169
Plasma Cutter 171
The Workshop of the Future 172
Appendix A 3D Printer and Modeling Resources 173
TOC, 9780789752352, 10/7/2013
Purchase Info
ISBN-10: 0-13-355342-6
ISBN-13: 978-0-13-355342-0
Format: eBook (Watermarked)?
This eBook includes the following formats, accessible from your Account page after purchase:
EPUBThe open industry format known for its reflowable content and usability on supported mobile devices.
MOBIThe eBook format compatible with the Amazon Kindle and Amazon Kindle applications.
PDFThe popular standard, used most often with the free Adobe® Reader® software.
This eBook requires no passwords or activation to read. We customize your eBook by discreetly watermarking it with your name, making it uniquely yours.
Includes EPUB, MOBI, and PDF
$19.99 $15.99
Add to Cart