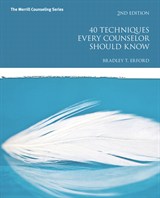 Description
User friendly, concise, and thorough, Bradley Erford's 40 Techniques Every Counselor Should Know gives students a succinct look at the theoretical basis underlying each of 40 counseling techniques, and the common variations that can be used to ensure their successful implementation. The book identifies techniques from diverse theoretical approaches, including: Brief Counseling; Adlerian or Psychodynamic, Gestalt; Mindfulness; humanistic-phenomenological; Social Learning; Cognitive; Behavioral; and Cognitive-behavioral. Transcripts and descriptions show step-by-step how to implement the techniques, outcome research on each technique helps in determining which techniques are best for use with various populations, and multicultural implications help readers learn more about applying each technique and approach to counseling clients from diverse cultures. Added to this new edition are: new chapters on Journaling, Miller and Rollnick's motivational interviewing, self-disclosure, empathic confrontation, and strength bombardment; new sections on mindfulness-based procedures and humanistic-phenomenological approach to counseling; a number of new, edited, or expanded transcripts; and; thorough updating of sources throughout.
Table of Contents
Brief Table of Contents

Section 1 Techniques Based on Solution-Focused Brief Counseling Approaches
Chapter 1: Scaling

Chapter 2: Exceptions
Chapter 3: Problem-Free Talk
Chapter 4: Miracle Question
Chapter 5: Flagging the Minefield
Section 2 Techniques Based Upon Adlerian or Psychodynamic Approaches
Chapter 6: I-Messages

Chapter 7: Acting As If
Chapter 8: Spitting in the Soup
Chapter 9: The Mutual Storytelling

Chapter 10: Paradoxical Intention
Section 3 Techniques Based on Gestalt and Psychodrama Principles
Chapter 11: Empty Chair

Chapter 12: Body Movement and Exaggeration Chapter 13: Role Reversal
Section 4 Techniques Based on Mindfulness Approaches
Chapter 14: Visual/Guided Imagery
Chapter 15: Deep Breathing
Chapter 16: Progressive Muscle Relaxation Training (PMRT)
Section 5 Techniques Based on Humanistic-Phenomenological Approaches
Chapter 17: Self-Disclosure
Chapter 18: Challenging/Confrontation
Chapter 19: Motivational Interviewing
Chapter 20: Strength Bombardment
Section 6 Techniques Based on Cognitive-Behavioral Approaches
Chapter 21: Self-Talk
Chapter 22: Reframing
Chapter 23: Thought Stopping
Chapter 24: Cognitive Restructuring
Chapter 25: Rational-Emotive Behavior Therapy (REBT): The ABCDEF Model and Rational Emotive Imagery
Chapter 26: Bibliotherapy
Chapter 27: Journaling
Chapter 28: Systematic Desensitization
Chapter 29: Stress Inoculation Training
Section 7 Techniques Based on Social Learning Approaches
Chapter 30: Modeling

Chapter 31: Behavioral Rehearsal
Chapter 32: Role Play
Section 8 Techniques Based on Behavioral Approaches Using Positive Reinforcement
Chapter 33: Premack Principle

Chapter 34: Behavior Chart
Chapter 35: Token Economy

Chapter 36: Behavioral Contract
Section 9 Techniques Based on Behavioral Approaches Using Punishment
Chapter 37: Extinction

Chapter 38: Time Out
Chapter 39: Response Cost
Chapter 40: Overcorrection
Purchase Info
Digital Choices ?
MyLab & Mastering with Pearson eText is a complete digital substitute for a print value pack at a lower price.
eTextbook ?
With VitalSource eTextbooks, you save up to 60% off the price of new print textbooks, and can switch between studying online or offline to suit your needs.
Access your course materials on iPad, Android and Kindle devices with VitalSource Bookshelf, the textbook e-reader that helps you read, study and learn brilliantly. Features include:
See all of your eTextbooks at a glance and access them instantly anywhere, anytime from your Bookshelf - no backpack required.
Multiple ways to move between pages and sections including linked Table of Contents and Search make navigating eTextbooks a snap.
Highlight text with one click in your choice of colors. Add notes to highlighted passages. Even subscribe to your classmates' and instructors' highlights and notes to view in your book.
Scale images and text to any size with multi-level zoom without losing page clarity. Customize your page display and reading experience to create a personal learning experience that best suits you.
Print only the pages you need within limits set by publisher
Supports course materials that include rich media and interactivity like videos and quizzes
Easily copy/paste text passages for homework and papers
Supports assistive technologies for accessibility by vision and hearing impaired users