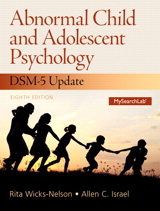 Description
A sensitive and thorough approach to childhood behavior disorders.
Abnormal Child and Adolescent Psychology with DSM-5 Updates, 8/e presents students with a comprehensive, research-based introduction to understanding child and adolescent psychopathology. The authors provide a logically formatted and easy to understand text that covers the central issues and theoretical and methodological foundations of childhood behavior disorders. Rich with illustrations and examples, this text highlights the newest areas of research and clinical work, stressing supported treatments and the prevention of behavior problems of youth.
Table of Contents
Chapter 1 Introduction
Chapter 2 The Developmental Psychopathology Perspective
Chapter 3 Influences and Risks in the Developmental Process
Chapter 4 Research: Its Role and Methods
Chapter 5 Classification, Assessment, and Treatment
Chapter 6 Anxiety Disorders
Chapter 7 Mood Disorders
Chapter 8 Conduct Problems
Chapter 9 Attention-Deficit Hyperactivity Disorder
Chapter 10 Language and Learning Disorders
Chapter 11 Mental Retardation
Chapter 12 Autism and Schizophrenia
Chapter 13 Disorders of Basic Physical Functions
Chapter 14 Psychological Factors Affecting Medical Condition
Chapter 15 Evolving Concerns for Youth
Purchase Info
ISBN-10: 0-13-376698-5
ISBN-13: 978-0-13-376698-1
Format: Book
This publication is not currently for sale.