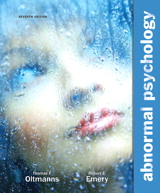 Description
It's not about them, it's about all of us.
With a focus on critical thinking, Oltmanns and Emery prepare students for the DSM-V and beyond by addressing key issues and concepts that will remain, even as diagnostic criteria change.
In Abnormal Psychology, 7th edition Oltmanns and Emery bring both the science and personal aspects of abnormal psychology to life with a focus on evidence-based practice and emerging research. The authors emphasize that abnormal psychology is not about "them," it's about all of us. Using extensive case studies, they present the most cutting edge information on abnormal psychology by covering methods and treatment in context. Organized around the way students learn, this ground breaking text integrates the biological, psychological, and social perspectives in one concurrent story.
Teaching & Learning Experience
Personalize Learning – The new MyPsychLab delivers proven results in helping students succeed, provides engaging experiences that personalize learning, and comes from a trusted partner with educational expertise and a deep commitment to helping students and instructors achieve their goals.
Improve Critical Thinking – With a focus on critical thinking students are encouraged to be "inquiring skeptics."
Engage Students – "Speaking Out" video series and case studies woven throughout each chapter engage students in the science and the practice of abnormal psychology.
Explore Research – Detailed coverage of research methods and treatment is presented in every chapter; treatment is also covered in a standalone chapter.
Support Instructors – "Speaking Out" videos on DVD, MyPsychLab's Class Prep, video embedded PowerPoints on DVD, MyTest, clicker questions, and an instructor's manual provide extensive support for instructors.
Note: MyPsychLab does not come automatically packaged with this text. To purchase MyPsychLab, please visit: www.mypsychlab.com or you can purchase a valuepack of the text + MyPsychLab (at no additional cost). VP: 9780205229260
Table of Contents
IN THIS SECTION:
1.) BRIEF
2.) COMPREHENSIVE
---
BRIEF TABLE OF CONTENTS:
Chapter 1: Examples and Definitions of Abnormal Behavior
Chapter 2: Causes of Abnormal Behavior
Chapter 3: Treatment of Psychological Disorders
Chapter 4: Classification and Assessment of Abnormal Behavior
Chapter 5: Mood Disorders and Suicide
Chapter 6: Anxiety Disorders
Chapter 7: Acute and Post-traumatic Stress Disorders, Dissociative Disorders, and Somatoform Disorders
Chapter 8: Stress and Physical Health
Chapter 9: Personality Disorders
Chapter 10: Eating Disorders
Chapter 11: Substance Use Disorders
Chapter 12: Sexual and Gender Identity Disorders
Chapter 13: Schizophrenic Disorders
Chapter 14: Dementia, Delirium, and Amnestic Disorders
Chapter 15: Mental Retardation and Pervasive Developmental Disorders
Chapter 16: Psychological Disorders of Childhood
Chapter 17: Adjustment Disorders and Life-Cycle Transitions
Chapter 18: Mental Health and the Law
Glossary
References
Credits
Name Index
Subject Index
Purchase Info
ISBN-10: 0-205-03743-7
ISBN-13: 978-0-205-03743-8
Format: Book
Digital Choices ?
MyLab & Mastering with Pearson eText is a complete digital substitute for a print value pack at a lower price.
MyLab & Mastering ?
MyLab & Mastering products deliver customizable content and highly personalized study paths, responsive learning tools, and real-time evaluation and diagnostics. MyLab & Mastering products help move students toward the moment that matters most—the moment of true understanding and learning.
+ Other Options