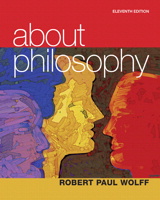 Description
For Introductory Philosophy Courses.
About Philosophy is an introductory text that covers all the major fields of philosophy in an easy-to-read language, interspersed with short selections from the major philosophers. It has been a best-selling leader in the field for more than thirty years and it is written by an internationally recognized author of more than twenty books.
---
NEW! Pearson's Reading Hour Program for Instructors
Interested in reviewing new and updated texts in Philosophy?
Click on the below link to choose an electronic chapter to preview…
Settle back, read, and receive a Penguin paperback for your time!
Table of Contents
BRIEF TABLE OF CONTENTS:
Chapter 1: What is Philosophy
Chapter 2: Theory of Knowledge
Chapter 3: Metaphysics and Philosophy of Mind
Chapter 4: Philosophy of Science
Chapter 5: Ethical Theory (Pt. I) - The Varieties of Ethical Theory
Ethical Theory (Pt. II) - The Ethical Dimensions of Medicine
Chapter 6: Social and Political Philosophy
Chapter 7: Philosophy of Art
Chapter 8: Philosophy of Religion
Purchase Info ?
With CourseSmart eTextbooks and eResources, you save up to 60% off the price of new print textbooks, and can switch between studying online or offline to suit your needs.
Once you have purchased your eTextbooks and added them to your CourseSmart bookshelf, you can access them anytime, anywhere.
Buy Access
About Philosphy, CourseSmart eTextbook, 11th Edition
Format: Safari Book
$65.99 | ISBN-13: 978-0-205-20622-3