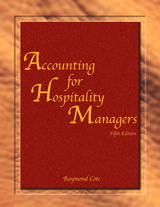 Description
ACCOUNTING FOR HOSPITALITY MANAGERS will help your students understand and apply hospitality departmental accounting at the supervisory and managerial levels. This edition includes three chapters on cash management and planning, casino accounting, and assorted accounting topics. Hospitality managerial accounting case studies and Internet reference sites are included in each chapter, and content has been updated to reflect the tenth revised edition of the Uniform System of Accounts for the Lodging Industry. The Sarbanes-Oxley Act gets comprehensive coverage, including the role of the SEC. The book also covers Fair Value Accounting, required for all publicly-held corporations. Exhibits throughout the book reflect computerization and today's technology.
Table of Contents
Chapter: 1
Hotel Revenue Accounting
Chapter: 2
Hotel Expense Accounting
Chapter: 3
Property and Equipment Accounting
Chapter: 4
Other Noncurrent Assets Accounting
Chapter: 5
Hospitality Payroll Accounting
Chapter: 6
Hotel Departmental Statements
Chapter: 7
Hotel Income Statements
Chapter: 8
Ratio Analysis of the Income Statement
Chapter: 9
Hotel Balance Sheets
Chapter: 10
Ratio Analysis of the Balance Sheet
Chapter: 11
Statement of Cash Flows
Chapter: 12
Interim and Annual Reports
Chapter: 13
Budgeting Expenses
Chapter: 14
Forecasting Sales
Chapter: 15
Budgetary Reporting and Analysis
Chapter: 16
Financial Decision-Making
Chapter: 17
Cash Management and Planning
Chapter: 18
Casino Accounting
Chapter: 19
Inventory Accounting
Chapter: 20
Assorted Topics
Purchase Info
ISBN-10: 0-13-311005-2
ISBN-13: 978-0-13-311005-0
Format: Book
This title is currently unavailable on myPearsonStore.