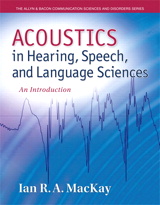 Description
This comprehensive, clearly written, and student-friendly introduction to acoustics and the acoustics of speech is suitable for upper-level undergraduate and graduate students of audiology, speech-language pathology, linguistics, and cognitive science/psychology.
This comprehensive introduction to acoustics and the science of speech takes a topic that is often challenging to students, and presents it in a clearly written, reader-friendly approach that makes the concepts accessible. Using examples and analogies from everyday life or general experience, the text helps explain aspects of basic acoustics in the context of communication disorders and speech research, with a special emphasis on helping students achieve a high level of understanding.
In addition to a wealth of pedagogical features, the book includes a helpful reviews of concepts that students might have studied previously, but are essential to understanding the material—reading graphs, the nature of atmospheric pressure, significant digits, scientific notation, numerical scales, basic phonetics, and more. Mathematically the book stops short of calculus, using inductive reasoning to present material.
Table of Contents
Preface
Chapter 1 Preview
Chapter 2 The Nature of Sound Part I
Refresher A Graphs
Refresher B Atmosphere
Chapter 3 The Nature of Sound Part II
Refresher C Scientific Notation
Refresher D Significant Digits
Chapter 4 Analog Signals and Digitization
Refresher E Binary Numbers
Chapter 5 Complex Waves
Chapter 6 Recording
Chapter 7 Spectra
Chapter 8 Analysis
Refresher F Measurement
Refresher G Estimate Answer
Chapter 9 Decibels and RMS
Refresher H Numerical Scales
Refresher I Logs
Chapter 10 Filters
Chapter 11 Resonance
Chapter 12 Vowels and the Source-Filter Theory
Refresher J Phonetics
Chapter 13 Consonants
Chapter 14 Suprasegmentals
Chapter 15 Psychoacoustics
Appendix Front Matter
Appendix 1 Formulas
Appendix 2 Values
Appendix 3 Units
Appendix 4 Abbreviations
Glossary / Index