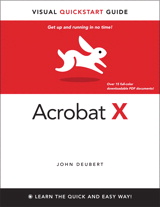 Description
Adobe Acrobat X for Windows and Macintosh: Visual QuickStart Guide walks readers through tasks that are enhanced by numerous screenshots to teach beginning and intermediate users how to take advantage of the productive power of Adobe Acrobat. Author John Deubert takes readers through all of the basic Acrobat X features, from the basic tools used to create PDF documents and the newly enhanced review functionality, to the advanced tools that create digital signatures, interactive forms, and PDF Portfolios, plus a guide to Adobe's Acrobat.com online services. Beginning users will find a thorough introduction to this indispensable application, and Acrobat power users will enjoy a convenient reference guide that relies on straightforward language, clear steps, and practical tips to explore Acrobat's many capabilities. By the end of the book, users will be able to smoothly integrate Adobe Acrobat X into their workflow.
Table of Contents
Chapter 1 Starting With Acrobat
Chapter 2 Viewing a Document
Chapter 3 Saving and Printing Files
Chapter 4 Creating PDF Files
Chapter 5 Sharing Files with Acrobat.com
Chapter 6 PDF Portfolios
Chapter 7 Adding Comments to a Document
Chapter 8 Reading Commented Documents
Chapter 9 Reviewing PDF Documents
Chapter 10 Manipulating Pages
Chapter 11 Adding and Changing Text and Graphics
Chapter 12 Adding Simple Navigation Features
Chapter 13 Adding Multimedia To Your File
Chapter 14 Creating Forms with Acrobat Pro
Chapter 15 Protecting Your Document
Chapter 16 Digital Signatures
Chapter 17 Converting Paper to PDF
Index

Purchase Info
ISBN-10: 0-13-269850-1
ISBN-13: 978-0-13-269850-4
Format: eBook (Watermarked)
This publication is not currently for sale.