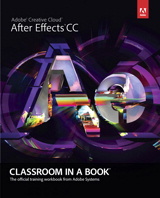 Description
The 14 project-based lessons in this book show students step-by-step the key techniques for working in After Effects
CC
and how to work efficiently and deliver in the widest possible range of media types.
In addition to learning the key elements of the After Effects interface, this completely revised CC edition covers new features, including integration with Cinema 4D, new Roto Brush and improved Refine Edge tool, improved 3D Camera Tracker, Bicubic Scaling, new Snapping feature, cross-integration with other Creative Suite applications (Audition, Premiere), new presets for working with Adobe Media Encoder, and more. New to this After Effects CC edition–students now download the lesson files from the Peachpit website, so they can work along, step-by-step, with the book.
Instructor Notes for this title will be available soon on the Pearson Higher Ed site.

Download a copy of Adobe Creative Cloud PTG Product Guide from the PTG Academic Sales NEO group:
https://neo.pearson.com/groups/ptg-academic-sales
It includes a complete list of PTG CC products by application and user level and includes bestseller information.
Table of Contents
Getting Started
1 Getting to Know the WorkFlow
2 Creating a Basic Animation Using Effects and Presets
3 Animating Text
4 Working with Shape Layers
5 Animating a Multimedia Presentation
6 Animating Layers
7 Working with Masks
8 Distorting Objects with the Puppet Tools
9 Using the Roto Brush Tool
10 Performing Color Correction
12 Working with the 3D camera tracker
13 Advanced Editing Techniques
14 Rendering and Outputting
Appendix
Index
Purchase Info ?
With CourseSmart eTextbooks and eResources, you save up to 60% off the price of new print textbooks, and can switch between studying online or offline to suit your needs.
Once you have purchased your eTextbooks and added them to your CourseSmart bookshelf, you can access them anytime, anywhere.
Buy Access
Adobe After Effects CC Classroom in a Book, CourseSmart eTextbook
Format: Safari Book
$32.49 | ISBN-13: 978-0-13-343101-8