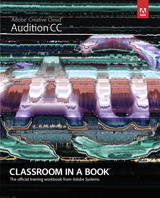 Description
&>
The 16 project-based lessons in this book show students step-by-step the key techniques for working in Audition CC. Starting with the basics of audio interfacing and the Audition environment, students will move on to working in Waveform View, performing such tasks as basic editing, signal processing, audio restoration, mastering, and creating and recording files. The book also covers basic multitrack orientation and track parameters, creating music with sound libraries and by overdubbing, mixing strategies, and working with video.
In addition, in this new updated version for Creative Cloud, students will learn about new effects like Stereo Expander, which widens the stereo image for a bigger-than-life sound, and Frequency Band Splitter, which extracts individual frequency bands from a file to their own separate files. Students will also explore numerous workflow enhancements, including track colorization to help identify tracks in multitrack projects, improved clip handling and merging, extended key commands, and more.
Instructor Notes for this title will be available soon on the Pearson Higher Ed site.

Download a copy of Adobe Creative Cloud PTG Product Guide from the PTG Academic Sales NEO group:
https://neo.pearson.com/groups/ptg-academic-sales
It includes a complete list of PTG CC products by application and user level and includes bestseller information.
Table of Contents
PART 1: INTRODUCTION
Chapter 1: Audio interfacing
Audio interface basics
Mac OS X audio setup
Windows setup
Audio channel mapping
Testing the audio setup
Using external audio interfaces
Chapter 2: The Audition environment
Waveform vs. Multitrack views
The Audition workspace
Navigation
PART 2: WAVEFORM VIEW
Chapter 3: Basic Editing
Opening files
Selecting regions and changing levels
Non-linear editing
Chapter 4: Signal processing
The effects rack
Amplitude and Compression
Delay and Echo effects
Filter and EQ effects
Modulation effects
Reverb effects
Special effects
Multi-effects
Stereo imaging
Time and Pitch effects
Using third-party VST and AU effects
Using the effects menu
Managing effects presets
Chapter 5: Audio Restoration
Reducing hiss via Noise Reduction
Click/pop eliminator
Reducing broadband noise
DeHummer
Removing artifacts with the spectral display
Chapter 6: Mastering
Mastering basics
Applying EQ
Applying dynamics
Applying ambience
Enhancing the stereo image
Altering amplitude
File conversion
Analysis
Chapter 7: Sound design
Special effects
Pushing the envelope of processing
Chapter 8: Creating and recording files
Recording into the Waveform Editor
Recording into the Multitrack Editor
Drag and Drop into an Audition Editor
Importing Audio from CDs
Saving Templates
PART 3: MULTITRACK VIEW
Chapter 9: Basic multitrack orientation
About Multitrack production
Commonalities with waveform view and integration between the two
Looped playback
Track controls
Track areas
Channel mapping
Side-chaining effects
Chapter 10: The Multitrack Mixer View
Mixer view basics
Using hardware controller
Mixer customization via show/hide options
Channel scrolling
Chapter 11: Editing Clips
Crossfading
Mixing or exporting a collection of clips
Fitting to specific durations
Basic clip automation
Add effects to individual clips
Extend a clip via looping
Chapter 12: Creating music with sound libraries
About Sound Libraries
Building a rhythm track
Adding percussion
Adding melodic elements
Matching tempo among disparate loops
Matching pitch among disparate loops
Adding processing
Chapter 13: Recording in the Multitrack Editor
Multitrack recording
Getting ready to record a track
Setting up the metronome and the metronome track
Recording a part in a track
Recording an additional part (overdubbing)
Punching in over a mistake
Composite recording
Chapter 14: Automation
About automation
Advanced clip automation
Track automation
Chapter 15: Mixing strategies
About Mixing
The Mixing Process
Publishing
Chapter 16: Working with Video
Importing video into Audition
Automatic speech alignment
Purchase Info ?
With CourseSmart eTextbooks and eResources, you save up to 60% off the price of new print textbooks, and can switch between studying online or offline to suit your needs.
Once you have purchased your eTextbooks and added them to your CourseSmart bookshelf, you can access them anytime, anywhere.
Buy Access
Adobe Audition CC Classroom in a Book, CourseSmart eTextbook
Format: Safari Book
$32.49 | ISBN-13: 978-0-13-343485-9