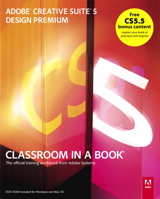 Description
Creative professionals seeking the fastest, easiest, most comprehensive way to learn Creative Suite 5 choose Adobe Creative Suite 5 Design Premium Classroom in a Book from the Adobe Creative Team at Adobe Press.
The 8 project-based lessons show readers step-by-step the key techniques for working with all the applications in the Creative Suite. Readers learn what they need to know to create engaging layouts for print or web publishing.
This completely revised Creative Suite 5 edition covers designing for mobile devices and creating animated Flash documents. The companion DVD includes all the lesson files readers need to work along with the book.
This guide is ideal for beginning to intermediate users and provides countless tips and techniques to help them become more productive.
"The Classroom in a Book series is by far the best training material on the market. Everything you need to master the software is included: clear explanations of each lesson, step-by-step instructions, and the project files for the students." —Barbara Binder, Adobe Certified Instructor, Rocky Mountain Training
All of Peachpit's eBooks contain the same content as the print edition. You will find a link in the last few pages of your eBook that directs you to the media files.

Helpful tips:
If you are able to search the book, search for "Where are the lesson files?"
Go to the very last page of the book and scroll backwards.
You will need a web-enabled device or computer in order to access the media files that accompany this ebook. Entering the URL supplied into a computer with web access will allow you to get to the files.
Depending on your device, it is possible that your display settings will cut off part of the URL. To make sure this is not the case, try reducing your font size and turning your device to a landscape view. This should cause the full URL to appear.
Note from the publisher:

FREE Adobe Creative Suite 5.5 updates are available for this title. Simply register your product at www.peachpit.com/register and you will receive the updates when they become available.
Table of Contents
Getting Started
About Creative Suite 5 Design Premium
1 Setting up Basic Assets
2 Creating a Print Layout
3 Creating an Online Version of a Print Document
4 Creating Interactive Flash Content
5 Prototyping and Building a Website
6 Creating Animated Flash Content
7 Designing for Mobile Devices
8 Submitting Work for a PDF Review
Index