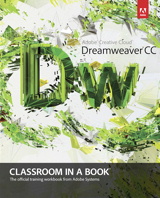 Description
The 15 project-based lessons in this book show students step by step everything they need to know to work in Dreamweaver. They'll learn to create a professional website without having to write code by hand. This completely revised Creative Cloud edition also covers HTML5, CSS3, and media queries for responsive web design. The book also shows how to create HTML-based headings, paragraphs, lists, and tables; insert graphics and Photoshop Smart Objects; add links to text and images; apply cascading styles sheets; and customize the Dreamweaver workspace. Students also learn to add interactive elements to their sites, such as HTML5-compatible video and animation, get guidance for working with code, and finally publish a finished site to the Web. New to this Dreamweaver CC edition–students now download the lesson files from the Peachpit website, so they can work along, step-by-step, with the book.
Instructor Notes for this title will be available soon on the Pearson Higher Ed site.

Download a copy of Adobe Creative Cloud PTG Product Guide from the PTG Academic Sales NEO group:
https://neo.pearson.com/groups/ptg-academic-sales
It includes a complete list of PTG CC products by application and user level and includes bestseller information.
Table of Contents
GETTING STARTED
1 CUSTOMIZING YOUR WORKSPACE
2 HTML BASICS
3 CSS BASICS
4 CREATING A PAGE LAYOUT
5 WORKING WITH CASCADING STYLE SHEETS
6 WORKING WITH TEMPLATES
7 WORKING WITH TEXT, LISTS, AND TABLES
8 WORKING WITH IMAGES
9 WORKING WITH NAVIGATION
10 ADDING INTERACTIVITY
11 WORKING WITH WEB ANIMATION AND VIDEO
12 WORKING WITH FORMS
15 WORKING WITH CODE - no longer in the book
13 PUBLISHING TO THE WEB
14 DESIGNING FOR MOBILE DEVICES
Purchase Info ?
With CourseSmart eTextbooks and eResources, you save up to 60% off the price of new print textbooks, and can switch between studying online or offline to suit your needs.
Once you have purchased your eTextbooks and added them to your CourseSmart bookshelf, you can access them anytime, anywhere.
Buy Access
Adobe Dreamweaver CC Classroom in a Book, CourseSmart eTextbook
Format: Safari Book
$29.99 | ISBN-13: 978-0-13-341600-8