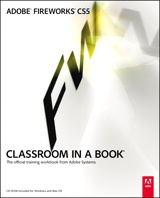 Description
This project-based guide will teach students the key techniques for working with Fireworks CS5. They'll learn how to design screen-based graphics, interfaces, and applications for any device. They'll also learn to collaborate with other Adobe Creative Suite applications to design and mock up basic Web pages or interfaces for rich Internet applications; demo a design live for a client, or export the design as an interactive PDF and email it to them. The companion CD includes the project files for students to use as they work their way through the lessons in the book.
Table of Contents
Getting Started
Lesson 1. Getting to Know the Workspace
Lesson 2. The Pages, States and Layers Panels — Fundamental workflow tools
Lesson 3. Working with Bitmap Images
Lesson 4. Working with Selections
Lesson 5. Working with Vector objects
Lesson 6. Masking
Lesson 7. Working with Text
Lesson 8. Optimizing for the Web
Lesson 9. Using Symbols
Lesson 10. Prototyping Basics
Lesson 11. Advanced Prototyping
Lesson 12. Improving your workflow
Lesson 13. Going Further
Purchase Info ?
With CourseSmart eTextbooks and eResources, you save up to 60% off the price of new print textbooks, and can switch between studying online or offline to suit your needs.
Once you have purchased your eTextbooks and added them to your CourseSmart bookshelf, you can access them anytime, anywhere.
Buy Access
Adobe Fireworks CS5 Classroom in a Book, CourseSmart eTextbook
Format: Safari Book
$27.50 | ISBN-13: 978-0-321-74942-0