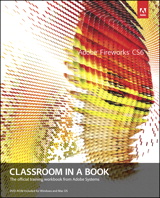 Description
<>
The 14 project-based lessons in this text show students step-by-step the key techniques for working in Fireworks. Students will learn what they need to know to collaborate with other Adobe Creative Suite applications to design and mock up basic Web pages or interfaces for rich Internet applications. In addition they'll learn how to demo a design live for a client, export the design as an interactive PDF, and export complete Web page designs as Web standards-compliant CSS-based layouts, or as PDF. This revised CS6 edition covers CSS extraction using the CSS Properties panel, jQuery Mobile skinning, and sprite creation, as well as new gradient editing features and enhancements to the Properties panel. The companion DVD includes lesson files so students can work along with the book.


Instructor Notes for this title will be available soon on the Pearson Higher Education site.
Sample thePTG Adobe CS6 Product Guide (ISBN: 0321862503) to your accounts. It includes a complete list of PTG CS6 products by application and user level and includes bestseller information. PDF version also available on the PTG Academic Sales NEO group: https://neo.pearson.com/groups/ptg-academic-sales
Table of Contents
<>
1. Getting to know the Workspace
2. The Pages, States, and Layers Panels: Fundamental Workflow tools
3. Working with Bitmap Images
4. Working with Selections
5. Working with Vector Graphics
6. Masking
7. Working with Text
8. Using Symbols
9. Using styles and the styles panel
10. Optimizing for the Web
11. Prototyping Basics
12. Advanced Prototyping
13. Improving Your Workflow
14. Designing for Mobile design and beyond
Purchase Info ?
With CourseSmart eTextbooks and eResources, you save up to 60% off the price of new print textbooks, and can switch between studying online or offline to suit your needs.
Once you have purchased your eTextbooks and added them to your CourseSmart bookshelf, you can access them anytime, anywhere.
Buy Access
Adobe Fireworks CS6 Classroom in a Book, CourseSmart eTextbook
Format: Safari Book
$29.99 | ISBN-13: 978-0-13-300548-6