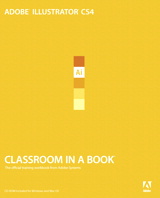 Description
The fastest, easiest, most comprehensive way to learn Adobe Illustrator CS4

Adobe Illustrator CS4 Classroom in a Book contains 15 lessons. The book covers the basics of learning Illustrator and provides countless tips and techniques to help you become more productive with the program. You can follow the book from start to finish or choose only those lessons that interest you.

Learn how to create artwork for illustrations, logos, stationery, page layouts, posters, and integrate with Adobe Flash® movies, Adobe InDesign® layouts, and more!

"The Classroom in a Book series is by far the best training material on the market. Everything you need to master the software is included: clear explanations of each lesson, step-by-step instructions, and the project files for the students." —Barbara Binder, Adobe Certified Instructor, Rocky Mountain Training

Classroom in a Book®, the best-selling series of hands-on software training workbooks, helps you learn the features of Adobe software quickly and easily. Classroom in a Book offers what no other book or training program does—an official training series from Adobe Systems Incorporated, developed with the support of Adobe product experts.

Table of Contents
Getting Started
What's New in Adobe Illustrator CS4
A Quick tour of Adobe Illustrator CS4
1 Getting to Know the Work Area
2 Selecting and Aligning
3 Creating and Editing Shapes
4 Transforming Objects
5 Drawing with the Pen and Pencil Tools
6 Color and Painting
7 Working with Type
8 Working with Layers
9 Blending Shapes and Colors
10 Working with Brushes
11 Applying Effects
12 Applying Appearance Attributes and Graphic Styles
13 Working with Symbols
14 Combining Illustrator CS4 Graphics with other Adobe Applications
15 Output
16 Index


Purchase Info
ISBN-10: 0-321-61833-5
ISBN-13: 978-0-321-61833-7
Format: Safari PTG
This publication is not currently for sale.