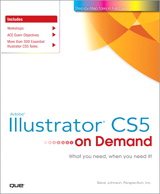 Description
Need answers quickly? Adobe Illustrator CS5 on Demand provides those answers in a visual step-by-step format. We will show you exactly what to do through lots of full color illustrations and easy-to-follow instructions.
Includes
Workshops
ACE Exam Objectives
More than 500 Essential Illustrator CS5 Tasks
Inside the Book
• Improve publishing and productivity with the CS5 interface
• Browse, organize, and process files using Adobe Bridge
• Transform and reshape objects to create a new look
• Use Live Paint to create recolor and modify images
• Use Live Color to create color harmony in a design
• Create complex shapes and perspective objects
• Create text and apply style to display artistic text
• Apply appearances and graphic styles for a unique design
• Create eye catching special effects and filters
Bonus Online Content
Register your book at queondemand.com to gain access to:
• Workshops and related files
• Keyboard shortcuts
Table of Contents
Introduction xvii
1 Getting Started with Illustrator CS5 1
Installing Illustrator 2
Getting Started 4 New!
Viewing the Illustrator Window 6
Showing and Hiding Panels 7
Working with Panels 8
Using the Tools and Control Panel 10
Opening a Document 12
Opening a Document with Adobe Bridge 14
Inserting Images in a Document 16
Using the Status Bar 17 New!
Working with Document Windows 18
Checking for Updates Online 20 New!
Getting Help While You Work 22 New!
Saving a Document 24 New!
Finishing Up 26
2 Creating and Viewing a Document 27
Creating a New Document 28
Creating a New Document Using Presets 29 New!
Creating a New Document from a Template 30
Setting Up a Document 32
Using Multiple Artboards 34 New!
Working with Multiple Artboards 36 New!
Changing the Display View 38 New!
Changing the View with the Navigator Panel 40
Customizing the Navigator Panel 42
Changing the Screen Display Mode 43
Changing the View with the Zoom Tool 44
Viewing and Using Rulers 46 New!
Using the Guides 48
Using Smart Guides 50 New!
Using the Grid 52 New!
Moving Around with the Hand Tool 53
Using Crop Marks 54 New!
Working with the Info Panel 56
Using Undo and Redo 57
Creating and Selecting Workspaces 58
3 Working with Objects 61
Understanding Vector and Raster Graphics 62
Understanding Paths 63
Selecting a Drawing Mode 64 New!
Creating Pixel Aligned Objects 65 New!
Creating Rectangles and Ellipses 66
Creating Polygons and Stars 68
Creating Line Segments 69
Creating Arcs and Spirals 70
Creating Grids 72
Using the Shape Builder Tool 74 New!
Creating Perspective Objects 76 New!
Working with Perspective Objects 78 New!
Customizing a Perspective Grid 79 New!
Understanding Selections 80 New!
Using the Selection Tool 81
Using the Direct Selection Tool 82
Using the Lasso Tool 83
Using the Magic Wand Tool 84
Selecting and Grouping Objects 86
Selecting Similar Objects 88
Saving and Editing Selections 90
Moving Objects 91
Duplicating Objects 92 New!
Aligning and Distributing Objects 94
Transforming Objects 95
Using the Free Transform Tool 96
Rotating and Scaling Objects 98
Reflecting and Shearing Objects 99
Applying Multiple Transformations 100
Reshaping Objects with Envelopes 102
4 Working with Color 103
Changing Color Settings 104
Changing Color Profiles 106
Working with Color Modes 107
Changing Color Modes 108
Applying Colors 109
Working with the Color Panel 110
Working with the Swatches Panel 112
Working with Swatch Libraries 114
Adding Colors Using the Kuler Panel 116
Replacing Colors 118
Inverting Colors 120
Using the Color Guide Panel 121
Applying Color with the Color Panel 122
Editing Colors with Live Color 124
Proofing Colors on the Screen 126
5 Applying Fills, Strokes, and Gradients 127
Applying Fill and Stroke Colors 128
Changing Stroke Attributes 130
Changing Stroke Style 132 New!
Creating Variable Stroke Widths 134 New!
Using the Eyedropper Tool 136
Using Patterns as Fills 138
Blending Fill Colors 140
Creating Blends Automatically 141
Applying Blend Options 142
Creating Blends with the Blend Tool 143
Modifying Blend Objects 144
Setting Transparency Options 145
Controlling Transparency Effects 146
Using the Transparency Grid 147
Applying Gradients 148
Creating Gradients 149
Editing Gradients 150
Using the Gradient Tool 151
Creating a Gradient Mesh 152 New!
6 Working with Points and Paths 155
Drawing with the Pen Tools 156
Setting Anchor Point Preferences 158
Moving Points and Segments 159
Converting Points 160
Adding and Deleting Anchor Points 162
Aligning and Joining Anchor Points 164 New!
Reshaping Paths 166
Simplifying Paths 168
Dividing Paths 169
Splitting Paths 170
Merging Paths 172
Working with Shape Mode 174
Working with Pathfinder 175
Creating a Compound Path 176
Creating a Clipping Set 178
Editing a Clipping Set 180
Erasing to Reshape Paths 182
7 Working with Layers 183
Understanding the Layers Panel 184
Setting Layers Panel Options 185
Creating Layers 186
Selecting Layers 188
Deleting Layers 189
Selecting Objects with Layers 190
Arranging Layers and Objects 192
Duplicating Layers and Objects 194
Locking Layers and Objects 195
Showing and Hiding Layers and Objects 196
Merging Layers and Groups 197
Moving Objects to a Layer 198
Flattening Layers 200
Locating Objects in the Layers Panel 201
8 Working with Type 203
Using Type Tools 204
Creating Type 205
Creating Type in a Text Box 206
Creating Area Type 207
Creating Path Type 208
Modifying Type on a Path 210
Importing Text 211
Selecting Type 212
Copying or Moving Type 214
Working with Overflow Type 216
Changing Fonts 218
Changing Font Size 220
Leading Type 221
Kerning Type 222
Tracking Type 223
Scaling Type 224
Rotating Type 225
Aligning Paragraphs 226
Indenting and Spacing Paragraphs 227
Setting Tabs 228
Working with Hyphenation 229
Working with Type Styles 230
Using Smart Punctuation 232
Working with Glyphs 233
Wrapping Type Around an Object 234
Creating Type Outlines 235
Anti-aliasing Type 236 New!
9 Working with Graphics 237
Opening Graphics 238
Placing Graphics 239
Placing Graphics from Adobe Bridge 240
Linking Graphics 242
Managing Linked Graphics 244
Tracing Raster Graphics 246
Converting Tracing to Paths 248
Applying Graphic Styles 249
Creating Graphic Styles 250
Editing Graphic Styles 252
Applying Appearance Attributes 254
Creating a Mosaic Graphic 256
10 Manipulating Artwork with Effects 257
Applying Illustrator Effects 258 New!
Applying the Convert to Shape Effect 260
Applying the Scribble Effect 261
Applying the Inner or Outer Glow Effect 262
Applying the Drop Shadow Effect 263
Applying 3D Effects 264
Changing Raster Effects Settings 266 New!
Working with the Effect Gallery 268
Using the Gaussian Blur Effect 270
Using the Unsharp Mask Effect 271
Applying Multiple Effects 272
Controlling Effects Using Selections 273
Viewing Various Effects 274
11 Drawing and Painting 277
Using the Pencil Tool 278
Creating Live Paint Groups 280
Setting Live Paint Bucket Tool Options 282
Using the Live Paint Bucket Tool 284
Using the Live Paint Selection Tool 286
Modifying Live Paint Groups 288
Selecting Gap Options 290
Using the Brushes Panel 291
Using the Paintbrush Tool 292
Creating and Editing Scatter Brushes 294
Creating and Editing Calligraphic Brushes 296
Creating and Editing Art Brushes 298 New!
Creating and Editing Pattern Brushes 300 New!
Creating and Editing Bristle Brushes 302 New!
Working with Brushes 304
Working with Liquify Tools 306
12 Using Symbols 307
Using the Symbols Panel 308 New!
Using Symbol Libraries 309
Working with Symbols 310
Duplicating and Editing Symbols 312 New!
Breaking Symbol Links 314
Using the Symbol Sprayer Tool 316
Setting Symbolism Tools Options 317
Using the Symbol Shifter Tool 318
Using the Symbol Scruncher Tool 319
Using the Symbol Sizer Tool 320
Using the Symbol Spinner Tool 321
Using the Symbol Stainer Tool 322
Using the Symbol Screener Tool 323
Using the Symbol Styler Tool 324
Expanding Symbol Instances 325
Using 9-Slice Scaling for Symbols 326 New!
Aligning Symbols to the Pixel Grid 328 New!
Setting the Symbol Registration Point 329 New!
13 Automating the Way You Work 331
Examining the Actions Panel 332
Building a New Action 334
Controlling the Playback of a Command 335
Adding a Stop to an Action 336
Inserting a Non-Recordable Command into an Action 337
Adding a Command to an Action 338
Deleting a Command from an Action 339
Working with Batch File Processing 340
Opening and Using Scripts 342 New!
Defining and Editing Data Variables 344
Creating and Formatting a Data Graph 346
Adding Graph Designs to a Graph 348
14 Proofing and Printing Documents 349
Using Spell Check 350
Using Custom Dictionaries 351
Finding and Replacing Text and Elements 352
Finding and Changing Fonts 354
Printing a Document 356
Printing with Presets 357
Setting General Print Options 358
Setting Marks and Bleed Options 360
Setting Graphics Options 362
Previewing Color Separations 363
Setting Output Options 364
Setting Advanced Options 366
Setting Color Management Options 368
Checking for Print Problems 369
Inserting File Information 370
Using the Document Info Panel 372
15 Exporting a Document 373
Exporting a Document 374
Understanding Export File Formats 375
Exporting as a Bitmap 376 New!
Exporting as a TIFF 377 New!
Exporting to Photoshop 378
Exporting with Presets 379
Exporting as a Flash Movie 380
Saving as Adobe PDF 382
Saving as an EPS 384
Saving as Adobe Flex 386 New!
Saving a Document for Microsoft Office 388
Saving as a Template 389
16 Designing for the Web and Devices 391
Saving for the Web 392
Working with Save For Web Options 394
Optimizing an Image to File Size 395
Working with Web File Formats 396
Optimizing a JPEG Document 398
Optimizing a GIF Document 400
Optimizing a PNG-8 Document 402
Optimizing a PNG-24 Document 404
Optimizing a WBMP Document 405
Slicing Images the Easy Way 406
Working with Slices 408
Arranging Slices 410
Adding HTML Text or an URL Link to a Slice 412
Saving Slices for the Web 414
Saving Selected Slices 416 New!
Optimizing SWF or SVG for the Web 417
17 Customizing the Way You Work 419
Setting General Preferences 420
Changing Selection & Anchor Display Preferences 422 New!
Setting Type Preferences 424
Changing Units Preferences 426
Setting Slices and Hyphenation Preferences 427
Selecting Plug-ins 428
Selecting Scratch Disks 429
Setting User Interface Preferences 430
Setting File Handling & Clipboard Preferences 431
Working with Appearance of Black Preferences 432
Defining Keyboard Shortcuts 433
Using Drawing Tablets 434
18 Working Together with Adobe Programs 435
Exploring Adobe Programs 436 New!
Exploring Adobe Bridge 437
Getting Started with Adobe Bridge 438
Getting Photos from a Digital Camera 439
Working with Raw Images from a Digital Camera 440 New!
Working with Images Using Adobe Bridge 442
Setting Preferences in Adobe Bridge 444
Applying Image Adjustments 446
Creating a Web Photo Gallery 447
Automating Tasks in Adobe Bridge 448
Using Mini Bridge 449 New!
Exploring CS Live Services 450 New!
Sharing My Screen 451 New!
Reviewing CS Documents 452 New!
Exploring Adobe Device Central 454
Checking Content Using Adobe Device Central 455
Using Adobe Extension Manager 456
W Workshops: Putting It All Together 457
Project 1: Creating and Using Multiple Artboards 457
Project 2: Tracing and Recoloring Artwork 460
Project 3: Creating Stylized 3D Type 462
Project 4: Creating and Using the Bristle Brush 464
Want More Projects 465
New Features 467 New!
Adobe Certified Expert 471
Keyboard Shortcuts 477
Index 489