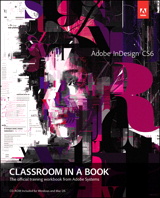 Description
&>The 16 project-based lessons in this text show students step-by-step the key techniques for working with InDesign CS6.

Students learn what they need to know to create engaging page layouts using InDesign CS6. This completely revised CS6 edition covers the new tools for adding PDF form fields, linking content, and creating alternative layouts for digital publishing. The companion CD includes all the lesson files that students need to work along with the book. This thorough, self-paced guide to Adobe InDesign CS6 is ideal for beginning students who want to master the key features of this program. Students who already have some experience with InDesign can improve their skills and learn InDesign's newest features.
Instructor Notes for this title will be available soon on the Pearson Higher Education site.
Sample thePTG Adobe CS6 Product Guide (ISBN: 0321862503) to your accounts. It includes a complete list of PTG CS6 products by application and user level and includes bestseller information. PDF version also available on the PTG Academic Sales NEO group: https://neo.pearson.com/groups/ptg-academic-sales
"The Classroom in a Book series is by far the best training material on the market. Everything you need to master the software is included: clear explanations of each lesson, step-by-step instructions, and the project files for the students." –Barbara Binder, Adobe Certified Instructor, Rocky Mountain Training


Table of Contents
Getting Started
1 Introducing the Workspace
2 Getting to Know InDesign
3 Setting Up a Document and Working with Pages
4 Working with Objects
5 Flowing Text
6 Editing Text
7 Working with Typography
8 Working with Color
9 Working with Styles
10 Importing and Modifying Graphics
11 Creating Tables
12 Working with Transparency
13 Printing and Exporting
14 Creating Adobe PDF Documents with Form Fields
15 Exporting for E-Readers
16 Working with Long Documents
BONUS 17 (download): Creating an iPad Publication
Purchase Info ?
With CourseSmart eTextbooks and eResources, you save up to 60% off the price of new print textbooks, and can switch between studying online or offline to suit your needs.
Once you have purchased your eTextbooks and added them to your CourseSmart bookshelf, you can access them anytime, anywhere.
Buy Access
Adobe InDesign CS6 Classroom in a Book, CourseSmart eTextbook
Format: Safari Book
$27.49 | ISBN-13: 978-0-13-300590-5