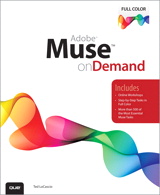 Description
This is the eBook version of the print title. Access to Workshops is available through product registration - see instructions in back pages of your eBook.
Adobe® Muse™ on Demand
Need answers quickly? Adobe® Muse™ on Demand provides those answers in a visual step-by-step format. Ted LoCascio shows you exactly what to do through lots of full color illustrations and easy-to-follow instructions.
Illustrations with matching steps
Tasks are presented on one or two pages
Numbered Steps guide you through each task
Did You Know? alerts you to tips and techniques
See Also points you to related information in the book
Inside the Book
• Create and manage your website page structure using the sitemap feature
• Utilize master pages, just as you would with Adobe InDesign
• Auto generate navigational menus
• Easily fill the browser background with a color or image
• Resize pages automatically as you add content
• Customize prebuilt slideshow and composition widgets
• Use the States panel to create dynamic buttons and rollovers
• Pin graphics to the browser so they remain in position as you scroll
• Apply effects such as drop shadows, glows, bevels, and corner effects
• Utilize character, paragraph, and graphic styles to quickly apply and edit formatting
• Preview and test page contents using the in-app Preview Mode
• Embed arbitrary HTML, such as a Google map, YouTube video, and Twitter search widget
Table of Contents
Introduction xiii
Chapter 1: Getting Started with Adobe Muse 1
Introduction 1
Acquiring a Muse Subscription 2
Installing Muse 5
Launching Muse 9
Chapter 2: Working with the Muse Environment 11
Introduction 11
Working with the Welcome Screen 12
Viewing Sites in Plan Mode 13
Viewing Sites in Design Mode 14
Accessing Tools in Design Mode 16
Showing and Hiding Design Mode Panels 17
Collapsing and Expanding Panels 18
Changing the View Percentage 19
Fitting the Page in Window 22
Viewing at Actual Size 23
Showing and Hiding Rulers 24
Showing and Hiding Page Guides 25
Showing and Hiding Header and Footer Guides 26
Showing and Hiding Smart Guides 27
Showing and Hiding the Grid Overlay 28
Chapter 3: Creating and Planning a Website 29
Introduction 29
Creating a New Site 30
Adding Top Level (Sibling) Pages to the Sitemap 33
Adding Child Pages to the Sitemap 35
Adding Master Pages to the Sitemap 36
Removing Pages from the Sitemap 38
Rearranging Pages in the Sitemap 39
Resizing Sitemap Thumbnails 40
Filling the Browser with a Background Color 42
Filling the Browser with a Background Image 43
Applying Master Pages 45
Saving a Site 47
Closing a Site 48
Chapter 4: Adding Navigational Content 49
Introduction 49
Creating a Header 50
Creating a Footer 51
Setting Up a Horizontal Menu 52
Setting Up a Bar Menu 53
Setting Up a Vertical Menu 54
Adding Drop-Down Menus 55
Editing Menu Fill Colors 56
Editing Menu Text Attributes 58
Editing Menu Size and Spacing 60
Editing Menu Rollover States 61
Inserting Active Rollover State Images 62
Chapter 5: Working with Graphics 65
Introduction 65
Placing a Graphic 66
Importing a Graphic by Dragging-and-Dropping 67
Resizing a Graphic 68
Cropping a Graphic 69
Repositioning a Graphic Inside a Frame 71
Filling a Frame with an Image 72
Replacing a Graphic 74
Deleting a Graphic 76
Rotating an Object 77
Duplicating an Object 79
Placing a Photoshop (PSD) Button 81
Using Edit Original 83
Pinning a Graphic 85
Setting Objects to Display at 100% Browser Width 86
Chapter 6: Working with Graphic Styles and Effects 87
Introduction 87
Creating a Text Wrap 88
Applying Corner Effects 90
Applying a Drop Shadow 91
Applying a Bevel 93
Applying a Glow 95
Changing Opacity 97
Saving a Graphic Style 98
Applying a Graphic Style 100
Deleting a Graphic Style 102
Chapter 7: Working with Text 103
Introduction 103
Importing Text by Copying and Pasting 104
Placing Text 105
Selecting Text 106
Choosing a Web Safe Font 107
Choosing a System Font 108
Changing Text Size 109
Applying Bold, Italic, and Underline Attributes 110
Changing Text Alignment 111
Changing Text Color 112
Changing Letter Spacing 114
Changing Leading 115
Inserting a Paragraph Indent 116
Inserting Left and Right Margins 117
Adding Space Before and After a Paragraph 118
Chapter 8: Working with Character and Paragraph Styles 119
Introduction 119
Saving a Character Style 120
Saving a Paragraph Style 122
Applying a Character Style 124
Applying a Paragraph Style 126
Applying Style Overrides 128
Redefining Styles 129
Clearing Overrides 130
Unlinking Styles 131
Deleting Styles 132
Applying Style Option Tags 133
Chapter 9: Adding Hyperlinks 135
Introduction 135
Creating a Link to a Page Within the Site 136
Creating an External URL Link 137
Inserting an Email Link 138
Previewing a Hyperlink 139
Creating a Link Style 140
Applying Link Styles 142
Inserting a Link Anchor 144
Applying a Hyperlink to an Anchor 145
Chapter 10: Working with Slideshows and Compositions 147
Introduction 147
Adding a Slideshow or Composition 148
Placing Photos in a Slideshow 150
Removing Photos from a Slideshow 154
Resizing Slideshow Images 155
Repositioning Slideshow Elements 156
Editing Slideshow Text 157
Editing Slideshow Thumbnail States 158
Choosing Slideshow Transition Options 161
Choosing Slideshow Autoplay Options 162
Enabling the Lightbox Option 163
Enabling and Disabling Slideshow Parts 165
Chapter 11: Embedding Arbitrary HTML 167
Introduction 167
Inserting a Google Map 168
Inserting a YouTube, Flickr, or Hulu Video 171
Inserting a Twitter Search Widget 173
Editing Arbitrary Code in Muse 176
Chapter 12: Previewing a Site 177
Introduction 177
Previewing a Page in Muse 178
Previewing a Site in Muse 179
Previewing a Page in the Default Browser 180
Previewing a Site in the Default Browser 181
Previewing in a Non-Default Browser 182
Chapter 13: Publishing a Site with Muse 185
Introduction 185
Publishing a Trial Site 186
Updating Changes to a Published Trial Site 188
Exporting HTML 190
Index 193