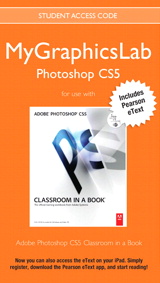 Description
The 14 project-based lessons in this book show students step-by-step the key techniques for working in Photoshop CS5. In addition to learning the key elements of the Photoshop interface, they'll learn how to edit images with precise selection control, correct a wide range of lens-based errors, interactively transform their images with the new Puppet Warp tool, and easily remove or replace image elements with the new Content-Aware Fill mode. The book also covers new powerful painting effects to artistically enhance images and shows how to combine multiple exposures into a single HDR image. The companion DVD-ROM includes sample project files for students to use as they work their way through the lessons in the book, as well as video training from Learn Adobe Photoshop CS5 by Video (9780321719805).
Table of Contents
GETTING STARTED
1. GETTING TO KNOW THE WORK AREA
2. BASIC PHOTO CORRECTIONS
3. WORKING WITH SELECTIONS
4. LAYER BASICS
5. CORRECTING AND ENHANCING DIGITAL PHOTOGRAPHS
6. MASKS AND CHANNELS
7. TYPOGRAPHIC DESIGN
8. VECTOR DRAWING TECHNIQUES
9. ADVANCED LAYERING
10. ADVANCED COMPOSITING
11. PAINTING WITH THE MIXER BRUSH
12. WORKING WITH 3D IMAGES
13. PREPARING FILES FOR THE WEB
14. PRODUCING AND PRINTING CONSISTENT COLOR
Purchase Info ?
With CourseSmart eTextbooks and eResources, you save up to 60% off the price of new print textbooks, and can switch between studying online or offline to suit your needs.
Once you have purchased your eTextbooks and added them to your CourseSmart bookshelf, you can access them anytime, anywhere.
Buy Access
Adobe Photoshop CS5 Classroom in a Book, CourseSmart eTextbook
Format: Safari Book
$27.50 | ISBN-13: 978-0-321-74930-7