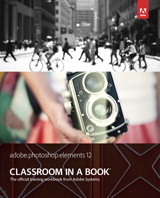 Description
Adobe Photoshop Elements 12 Classroom in a Book is the most thorough and comprehensive way for students to master all the new features in Adobe's top-rated consumer-targeted photo-editing software. Each chapter in this step-by-step, project-based guide contains a project that builds on their growing knowledge of the program, while end-of-chapter review questions reinforce each lesson. They will learn the basics of editing ther images with Photoshop Elements and learn how best to use the program's many new features.

In this new version of the book students will receive complete coverage of all the new features of Photoshop Elements 12. Learn about the three easy-to-use editing modes and determine which one best fits their needs. Fix pet eye discolorations in their favorite photos with the new Correct pet eye feature. Learn how to automatically fill in the background when they move objects in their photos. Use a variety of one-touch Frames, Effects, and Textures to add depth to their photos. Easily view and share their photos virtually everywhere, including Facebook, YouTube, Vimeo, Twitter, and on smartphones and tablets.
Table of Contents
GETTING STARTED
1 A QUICK TOUR OF PHOTOSHOP ELEMENTS
2 IMPORTING AND SORTING PHOTOS
3 TAGGING, GROUPING, AND SEARCHING PHOTOS
4 IMAGE EDITING BASICS
5 WORKING WITH COLOR
6 FIXING EXPOSURE PROBLEMS
7 REFRAMING, RETOUCHING, AND RECOMPOSING IMAGES
8 COMBINING IMAGES
9 GETTING CREATIVE
10 PRINTING, SHARING, AND EXPORTING
INDEX 296

Purchase Info ?
With CourseSmart eTextbooks and eResources, you save up to 60% off the price of new print textbooks, and can switch between studying online or offline to suit your needs.
Once you have purchased your eTextbooks and added them to your CourseSmart bookshelf, you can access them anytime, anywhere.
Buy Access
Adobe Photoshop Elements 12 Classroom in a Book, CourseSmart eTextbook
Format: Safari Book
$24.99 | ISBN-13: 978-0-13-352000-2