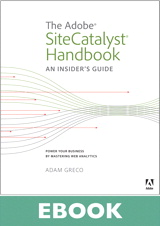 Description
As the world of marketing goes digital, companies must integrate web analytics into their process to see evaluate how marketing campaigns perform and to improve website conversion. Adobe SiteCatalyst, the principal component of the Adobe Digital Marketing Suite (formerly Omniture), is the most advanced web analytics tool available on the market.

The Adobe SiteCatalyst Handbook is your key to understanding how to use this powerful web analytics tool. Recognized SiteCatalyst expert Adam Greco walks you through the building blocks of the program and shows you real-world examples to help further your understanding of the product. For end-users of SiteCatalyst, the book provides how-to instructions for all major SiteCatalyst features. You will also learn how to apply SiteCatalyst to common web analytics challenges ranging from campaign tracking to shopping cart analysis to visitor engagement. It also includes useful tips on using on Adobe ReportBuilder and advanced features that will benefit seasoned SiteCatalyst users. In the end, you'll be able to answer business questions that you never thought you could address and generate web analyses that should improve your website's return on investment.

You'll learn how to:

* Create web analytics reports and data exports
* Design sophisticated web analytics dashboards
* Effectively track online marketing campaigns
* Analyze website shopping cart performance
* Connect online and post-website data
* Master website segmentation techniques
* Use basic and advanced pathing analysis
* Understand the inner workings of Adobe SiteCatalyst



Table of Contents
Section 1: Behind the Scenes of Adobe SiteCatalyst
Chapter 1: What Is Adobe SiteCatalyst?
A Brief History of SiteCatalyst
SiteCatalyst's Role in the Organization
How Does SiteCatalyst Work?
Why It's Important to Understand SiteCatalyst
Learning SiteCatalyst
Conclusion
Chapter 2: Company Logins, Report Suites, and Rollups
Company Logins
Report Suites
Report Suite IDs
General Report Suite Settings
Multi-suite Tagging
Multi-suite tagging example
Additional benefits of multi-suite tagging
With great power comes great responsibility
Rollup Report Suites
Conclusion
Chapter 3: SiteCatalyst Traffic Variables
SiteCatalyst Variables
Traffic Metrics
Traffic Variables (sProps)
Not Persistent
Pathing
Enabling Traffic Metrics for Traffic Variables
The Instances Metric in Traffic Variable Reports
List Prop
List Prop Limitations
Hierarchy Variable
Conclusion
Chapter 4: Success Events
Key Performance Indicators
Understanding Success Events
Shopping Cart Success Events
Revenue, Orders, Units (Purchase)
Carts (scOpen)
Cart Views (scView)
Checkouts (scCheckout)
Cart Additions (scAdd)
Cart Removals (scRemove)
Product Views (prodView)
Counter Success Events
Currency and Numeric Success Events
Setting Currency and Numeric Success Events
Enabling Currency and Numeric Success Events
Success Event Serialization
Types of Serialization
Event ID serialization
Once Per Visit serialization
Calculated Metrics
What Are Calculated Metrics?
Creating and Using Calculated Metrics
Total metrics
Success Event Participation
Important Details to Know About Success Event Participation
Conclusion
Chapter 5: Conversion Variables
Conversion Variable (eVars) Fundamentals
Conversion Variable Persistence
Conversion Variable Settings
Conversion variable names
Conversion variable allocation
Conversion variable expiration
Conversion variable type: Text String vs. Counter
Conversion variable status
Conversion variable Reset setting
The "None" Row
List Variables
List Variable Settings
Products Variable
Understanding the Products Variable
Multiple values
Special parameters
Not persistent
Campaign Variable
Setting the Campaign Variable
Merchandising Conversion Variables
Why Merchandising eVars?
Using Merchandising eVars
Product Syntax method
Conversion Variable Syntax method
Instances Metrics in Conversion Reports
Using Instances for Quality Assurance in Conversion Variable Reports
Using Instances in the Products Report
Using Instances in the Campaign Report
Using Instances in Search Engine Reports
Instances Metrics and Calculated Metrics
Conclusion
Chapter 6: Variable Classifications
Understanding Classifications
Creating SAINT Classifications
Using SAINT Classifications
Classifying the None Row
Removing Classification Data
Numeric Classifications
Classification Hierarchies
Conclusion
Chapter 7: Advanced SiteCatalyst Features
SiteCatalyst JavaScript Plug-ins
Get Query Parameter Plug-in
Previous Value Plug-in
Cross-Visit Participation Plug-in
Get & Persist Plug-in
Time Parting Plug-in
Date Stamp variable
Time to Complete Plug-in
Get Val(ue) Once Plug-in
Visit Number Plug-in
Days Since Last Visit Plug-in
Data Sources
Transaction ID
Genesis Integrations
E-mail Marketing Integrations
Voice of Customer
Customer Experience Management
Other Genesis Integrations
Data Feeds
VISTA Rules
Important Facts About VISTA
DB VISTA Rules
Conclusion
Section 2: Using Adobe SiteCatalyst
Chapter 8: Creating Reports in SiteCatalyst
Metric Reports
Ranked Reports
Ranked Report Settings
Default Metrics
Ranked Report Search Filters
The basics
Complex searches
Additional search filter tips
Trended Reports
Breakdown Reports
Traffic Correlations
Conversion Variable Subrelations
Pathing Reports
Types of Pathing Reports
Next [Variable] Flow report
Fallout report
Pathfinder report
Summary report
Other Uses of Pathing Reports
Conversion Funnel Reports
Conclusion
Chapter 9: Using the SiteCatalyst Interface
General Interface Layout
Report Toolbar
Download Report
Send Report
Bookmark Report
Add Report to Dashboard
Working with dashboards
Alerts
Site Metric alerts
Traffic and Conversion Variable alerts
Classification alerts
More Actions
Data Extracts
Targets
Publishing Lists
Comparison Reporting
Date Comparisons
Report Suites Comparisons
Segment Comparison Reports
Pathing Comparison Reports
SiteCatalyst Interface Time-savers
Update Dashboard Reports
Reorganize Menus and Hide Menu Items
Double-click to Add/Remove Metrics
The Magic Triangle
Graph Check Boxes
5x5 Subrelation Report
Remove Subrelation Breakdowns
Conclusion
Chapter 10: Segmentation
Segment Builder
Containers and Events
Segment Canvas—Nesting Containers
Segment Canvas—Exclude
DataWarehouse
Advanced Segment Insight (ASI)
Instant Segmentation (v15+)
Instant Segmentation vs. Multi-suite Tagging
Data security
More complex segments
Comparing sites
Conclusion
Chapter 11: Adobe ReportBuilder
What Is Adobe ReportBuilder?
SiteCatalyst vs. ReportBuilder
Using ReportBuilder
Installing ReportBuilder
ReportBuilder Toolbar
Creating Data Requests
Request Manager
Refreshing Requests
Scheduling Workbooks
Other ReportBuilder Items
Dependent requests
Right-clicking in Excel
Real-world Examples
Using ReportBuilder Templates
Using Dependent Data Requests
Conclusion
Section 3: Applying Adobe SiteCatalyst

Chapter 12: Tracking Website Content
Naming Pages, Sections, and Sites
Naming Pages
Naming Site Sections
Site Variable
Page Types
Page Type Pathing
Implementing Page Types
Content Management System
DB VISTA
Adobe Discover
Bounce Rates
Page Influence
File Downloads
File Download Limitations
Tracking File Downloads with Custom Variables
File Download Pathing
Conclusion
Chapter 13: Shopping Cart Tracking
Product Pages
Product Pathing
Product Page Tab Usage
Product List Views
Cart Additions and Checkouts
Product Merchandising
Product attributes
Product finding methods
Money Left on the Table
Using potential revenue in segmentation
Beyond retail
Revenue, Orders, and Units
Validating Orders and Revenue
Order ID conversion variable
Comparing back-end order data
Product Returns
Recurring Revenue
Viewing recurring revenue in SiteCatalyst
Revenue and Orders to Date
Orders to date
Conclusion
Chapter 14: Campaign Tracking
External Campaign Tracking
Unified Sources
Marketing Channels
Internal Campaigns
Internal Campaign Click-through Rates
Internal Campaign Influence
Conclusion
Chapter 15: Lead Generation
Lead Generation Forms
Form View and Form Completions
Form Conversion
Form IDs
Form Types
Form Submit Clicks
Form Errors
Form Error Success Event
Form Error Alerts
Fields Producing Form Errors
Form Field Abandonment
Phone Conversion
Click-to-Call
Dynamic Phone Numbers
Conclusion
Chapter 16: Onsite Search Tracking
Frequently Asked Tracking Questions
Onsite Searches and Phrases
Number of Search Results
Search Result Click-through Rates
Onsite Search Phrase Pathing
Conclusion
Chapter 17: Visitor Engagement
KPI Pathing
Website Engagement Score
Visitor Scoring
Other Uses of Visitor Scoring
Pass visitor score to CRM
Visitor score segmentation
Visitor score targeting
Conclusion
Index
Purchase Info
ISBN-10: 0-13-308935-5
ISBN-13: 978-0-13-308935-6
Format: eBook (Watermarked)?
This eBook includes the following formats, accessible from your Account page after purchase:
EPUBThe open industry format known for its reflowable content and usability on supported mobile devices.
MOBIThe eBook format compatible with the Amazon Kindle and Amazon Kindle applications.
PDFThe popular standard, used most often with the free Adobe® Reader® software.
This eBook requires no passwords or activation to read. We customize your eBook by discreetly watermarking it with your name, making it uniquely yours.
Includes EPUB, MOBI, and PDF
$47.99
Add to Cart