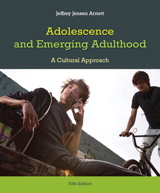 Description
Helps students understand how culture impacts development in adolescence and emerging adulthood.
Grounded in a global cultural perspective (within and outside of the US), this text enriches the discussion with historical context and an interdisciplinary approach, including studies from fields such as anthropology and sociology, in addition to the compelling psychological research on adolescent development. This book also takes into account the period of "emerging adulthood" (ages 18-25), a term coined by the author, and an area of study for which Arnett is a leading expert.
Arnett continues the fifth edition with new and updated studies, both U.S. and international. With Pearson's MyDevelopmentLab Video Series and Powerpoints embedded with video, students can experience a true cross-cultural experience.
A better teaching and learning experience
This program will provide a better teaching and learning experience— for you and your students. Here's how:
Personalize Learning – The new MyDevelopmentLab delivers proven results in helping students succeed, provides engaging experiences that personalize learning, and comes from a trusted partner with educational expertise and a deep commitment to helping students and instructors achieve their goals.

Improve Critical Thinking - Students learn to think critically about the influence of culture on development with pedagogical features such as Culture Focus boxes and Historical Focus boxes.

Engage Students – Arnett engages students with cross cultural research and examples throughout. MyVirtualTeen, an interactive simulation, allows students to apply the concepts they are learning to their own "virtual teen."

Explore Research – "Research Focus" provides students with a firm grasp of various research methods and helps them see the impact that methods can have on research findings.

Support Instructors – This program provides instructors with unbeatable resources, including video embedded PowerPoints and the new MyDevelopmentLab that includes cross-cultural videos and MyVirtualTeen, an interactive simulation that allows you to raise a child from birth to age 18. An easy to use Instructor's Manual, a robust test bank, and an online test generator (MyTest) are also available. All of these materials may be packaged with the text upon request.
Note: MyDevelopmentLab does not come automatically packaged with this text. To purchase MyDevelopmentLab, please visit: www.mydevelopmentlab.com or you can purchase a ValuePack of the text + MyDevelopmentlab (at no additional cost): ValuePack ISBN-10: 0205911854/ ValuePack ISBN-13: 9780205911851.
Click here for a short walkthrough video on MyVirtualTeen! http://www.youtube.com/playlist?list=PL51B144F17A36FF25&feature=plcp
Table of Contents
Chapter 1 Introduction
Chapter 2 Biological Foundations
Chapter 3 Cognitive Foundations
Chapter 4 Cultural Beliefs
Chapter 5 Gender
Chapter 6 The Self
Chapter 7 Family Relationships
Chapter 8 Friends and Peers
Chapter 9 Love and Sexuality
Chapter 10 School
Chapter 11 Work
Chapter 12 Media
Chapter 13 Problems and Resilience
This title is also sold in the various packages listed below. Before purchasing one of these packages, speak with your professor about which one will help you be successful in your course.
Package ISBN-13: 9780205901043
Includes this title packaged with:
MyVirtualLife -- Standalone Access Card, 2nd Edition
Frank Manis, Janine Buckner
$226.87 | Add to Cart
Package ISBN-13: 9780205996421
Includes this title packaged with:
Adolescent Portraits: Identity, Relationships, and Challenges, 7th Edition
Andrew C. Garrod, Lisa Smulyan, Sally I. Powers, Robert Kilkenny
$299.93 | Add to Cart
Package ISBN-13: 9780134508221
Includes this title packaged with:
MyVirtualLife -- Standalone Access Card, 2nd Edition
Frank Manis, Janine Buckner
Learning Catalytics -- Valuepack Access Card
. . Pearson Education
$241.93 | Add to Cart
Purchase Info
Digital Choices ?
MyLab & Mastering with Pearson eText is a complete digital substitute for a print value pack at a lower price.
MyLab & Mastering ?
MyLab & Mastering products deliver customizable content and highly personalized study paths, responsive learning tools, and real-time evaluation and diagnostics. MyLab & Mastering products help move students toward the moment that matters most—the moment of true understanding and learning.
+ Other Options
eTextbook ?
With VitalSource eTextbooks, you save up to 60% off the price of new print textbooks, and can switch between studying online or offline to suit your needs.
Access your course materials on iPad, Android and Kindle devices with VitalSource Bookshelf, the textbook e-reader that helps you read, study and learn brilliantly. Features include:
See all of your eTextbooks at a glance and access them instantly anywhere, anytime from your Bookshelf - no backpack required.
Multiple ways to move between pages and sections including linked Table of Contents and Search make navigating eTextbooks a snap.
Highlight text with one click in your choice of colors. Add notes to highlighted passages. Even subscribe to your classmates' and instructors' highlights and notes to view in your book.
Scale images and text to any size with multi-level zoom without losing page clarity. Customize your page display and reading experience to create a personal learning experience that best suits you.
Print only the pages you need within limits set by publisher
Supports course materials that include rich media and interactivity like videos and quizzes
Easily copy/paste text passages for homework and papers
Supports assistive technologies for accessibility by vision and hearing impaired users
Print Choices
Loose Leaf Version ?
Books a la Carte are less-expensive, loose-leaf versions of the same textbook.