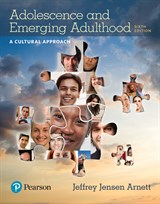 This title is part of a new Pearson program pilot offering students the option to rent a print textbook for fall 2017.  By having affordable access to the best learning materials and experiences from day-one, students come to class prepared and ready to succeed.  Additional details on the rental program will be coming soon.
Description
This print textbook is available for students to rent for their classes. The Pearson print rental program provides students with affordable access to learning materials, so they come to class ready to succeed.
For courses in Adolescent Development
Help students understand how culture impacts development in adolescence and emerging adulthood
Adolescence and Emerging Adulthood: A Cultural Approach
helps students examine this dynamic and complex age period through the lens of culture. Utilizing a multidisciplinary approach, author Jeffrey Jensen Arnett seeks to frame not only how students understand themselves, but how they understand others and how they think about the world around them. The text is distinguished by its emphasis on the period of "emerging adulthood" (ages 18—25), a term coined by the author and a growing area of study. The
Sixth Edition
includes the latest data as well as fresh content that ensures an up-to-date learning experience.
Available to package with
Adolescence and Emerging Adulthood: A Cultural Approach
, Sixth Edition,
MyLab™ Psychology
is an online homework, tutorial, and assessment program designed to work with this text to engage students and improve results. MyLab Psychology is ideal for courses requiring robust assessments.
Adolescence and Emerging Adulthood: A Cultural Approach
, Sixth Edition is also available via
Revel™
, an interactive digital learning environment that replaces the print textbook, enabling students to read, practice, and study in one continuous experience. Revel is ideal for courses where student engagement and mobile access are important.
Note:
You are purchasing a standalone product; MyLab does not come packaged with this content. Students, if interested in purchasing this title with MyLab, ask your instructor for the correct package ISBN and Course ID. Instructors, contact your Pearson representative for more information.
0134791479 / 9780134791470
Adolescence and Emerging Adulthood: A Cultural Approach
plus MyLab Psychology with eText – Access Card Package, 6/e
Package consists of:
0134596870 / 9780134596877 Adolescence and Emerging Adulthood: A Cultural Approach, 6/e
0205206514 / 9780205206513 MyLab Psychology with eText Access Card
Table of Contents
1. Introduction
2. Biological Foundations
3. Cognitive Foundations
4. Cultural Beliefs
5. Gender
6. The Self
7. Family Relationships
8. Friends and Peers
9. Love and Sexuality
10. School
11. Work
12. Media
13. Problems and Resilience