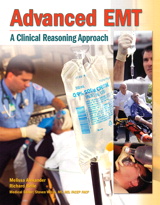 Description
Advanced EMT: A Clinical Reasoning Approach was developed to assist students in successfully completing their Advanced EMT course and ultimately obtaining their licensure. Advanced EMT is a new level of EMS provider, thus warranting a first edition textbook with the National EMS Education Standards as its foundation. Special care has been taken to ensure that the latest applicable research was reviewed during the development of this textbook, resulting in our ability to deliver the latest evidence-based patient care to you and your students.
Table of Contents
SECTION 1: PREPARING FOR ADVANCED EMERGENCY MEDICAL TECHNICIAN PRACTICE
Chapter 1: Introduction to Advanced Emergency Medical Technician Practice
Chapter 2: Emergency Medical Services, Health Care, and Public Health Systems
Chapter 3: Workforce Wellness and Personal Safety
Chapter 4: Ethical and Medical/Legal Considerations in Advanced EMT Practice
Chapter 5: Ambulance Operations and Responding to EMS Calls
Chapter 6: Communication and Teamwork
SECTION 2: HUMAN DEVELOPMENT, HEALTH, AND DISEASE
Chapter 7: Medical Terminology
Chapter 8: Human Body Systems
Chapter 9: Life-Span Development and Cultural Considerations
Chapter 10: Pathophysiology: Selected Impairments of Homeostasis
SECTION 3: PHARMACOLOGY
Chapter 11: Pharmacology
Chapter 12: Medication Administration
Chapter 13: Medications
SECTION 4: ASSESSMENT AND INITIAL MANAGEMENT
Chapter 14: General Approach to Patient Assessment and Clinical Reasoning
Chapter 15: Primary Assessment
Chapter 16: Airway Management, Ventilation, and Oxygenation
Chapter 17: Resuscitation: Managing Shock and Cardiac Arrest
Chapter 18: Vital Signs and Monitoring Devices
Chapter 19: History Taking, Secondary Assessment, and Reassessment
SECTION 5: MEDICAL EMERGENCIES
Chapter 20: Respiratory Emergencies (Sample Chapter)
Chapter 21: Cardiovascular Emergencies
Chapter 22: Neurological Disorders
Chapter 23: Endocrine Disorders
Chapter 24: Abdominal Pain and Gastrointestinal Disorders
Chapter 25: Renal, Genitourinary, and Gynecologic Disorders
Chapter 26: Hematological Disorders
Chapter 27: Immunological Disorders
Chapter 28: Infectious Illnesses
Chapter 29: Non-traumatic Musculoskeletal and Soft-Tissue Disorders
Chapter 30: Disorders of the Eye, Ear, Nose, Throat, and Oral Cavity
Chapter 31: Mental Illness and Behavioral Emergencies
Chapter 32: Toxicological Emergencies
SECTION 6: TRAUMA
Chapter 33: Trauma Systems and Incident Command
Chapter 34: Mechanisms of Injury, Trauma Assessment, and Trauma Triage Criteria
Chapter 35: Soft-Tissue Injuries and Burns
Chapter 36: Musculoskeletal Injuries
Chapter 37: Head, Brain, Face, and Neck Injuries
Chapter 38: Thoracic Trauma
Chapter 39: Abdominal Trauma
Chapter 40: Spine Injuries
Chapter 41: Environmental Emergencies
Chapter 42: Multisystems Trauma and Trauma Resuscitation
SECTION 7: SPECIAL PATIENT POPULATIONS
Chapter 43: Obstetrics and Care of the Newborn
Chapter 44: Pediatric Emergencies
Chapter 45: Geriatrics
Chapter 46: Patients with Special Challenges
SECTION 8: RESCUE AND SPECIAL OPERATIONS
Chapter 47: Rescue Operations and Vehicle Extrication
Chapter 48: Hazardous Materials
Chapter 49: Response to Terrorism and Disasters
APPENDICES
Appendix 1: Endotracheal Intubation
Appendix 2: Advanced ECG Recognition
Appendix 3: Adult Intraosseous Infusion
Appendix 4: Additional Emergency Medications
ANSWER KEY
GLOSSARY
INDEX
This title is also sold in the various packages listed below. Before purchasing one of these packages, speak with your professor about which one will help you be successful in your course.
Package ISBN-13: 9780132839037
Includes this title packaged with:
Resource Central EMS -- Access Card
. . Pearson Education, Daniel J. Limmer, Joe J. Mistovich, Howard Werman
$157.60 $149.72 | Add to Cart
Package ISBN-13: 9780132836548
Includes this title packaged with:
Workbook for Advanced EMT
Melissa Alexander, Richard Belle
$217.13 $206.27 | Add to Cart
Package ISBN-13: 9780134668864
Includes this title packaged with:
Understanding EKGs: A Practical Approach, 4th Edition
Brenda M. Beasley
NEW MyLab BRADY with Pearson eText -- Access Card -- for Advanced EMT: A Clinical-Reasoning Approach
Melissa Alexander, Richard Belle
$281.47 $267.40 | Add to Cart