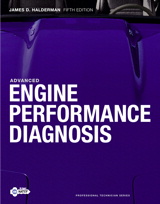 Description
For courses in Engine Performance and Drivability, Computerized Engine Controls, Automotive Computers, and Automotive Fuel Emissions–in automotive departments of vocational and trade schools as well as community colleges.
Advanced Engine Performance Diagnosis, Fifth Edition, offers a practical, hands-on introduction to the diagnosis and troubleshooting of automotive engine control systems. It serves students as a single source for information on digital storage oscilloscopes, fuel injection and ignition system diagnoses, five-gas exhaust analysis, emission testing, and more–with a very technical, but easy-to-read and understand, presentation.
This title meets the needs for a textbook that combines topics in engine performance (ASE A8 content area) and topics covered in the advanced engine performance (L1) ASE test content area. By combining these two complementary subjects into one comprehensive textbook, it is easier for the instructor to teach these topics and is cost effective for the student.
Table of Contents
Chapter 1 The Diagnostic Process
Chapter 2 CAN and Network Communications
Chapter 3 On-Board Diagnosis
Chapter 4 Global OBD II and Mode $06
Chapter 5 Circuit Testers and Digital Meters
Chapter 6 Oscilloscopes and Graphing Multimeters
Chapter 7 Starting and Charging System Diagnosis
Chapter 8 Ignition System Operation
Chapter 9 Ignition System Diagnosis
Chapter 10 Gasoline, Alternative Fuels and Diesel Fuels
Chapter 11 Temperature Sensors
Chapter 12 Throttle Position (TP) Sensors
Chapter 13 MAP/BARO Sensors
Chapter 14 Mass Air Flow (MAF) Sensors
Chapter 15 Oxygen Sensors
Chapter 16 Wide-Band Oxygen Sensors
Chapter 17 Fuel Trim Diagnosis
Chapter 18 Fuel Pumps, Lines, and Filters
Chapter 19 Fuel Injection Components and Operation
Chapter 20 Gasoline Direct Injection Systems
Chapter 21 Electronic Throttle Control Systems
Chapter 22 Fuel Injection System Diagnosis and Service
Chapter 23 Vehicle Emission Standards and Testing
Chapter 24 Emission Control System Devices, Operation, and Diagnosis
Chapter 25 Engine Condition Diagnosis
Chapter 26 In-Vehicle Engine Service
Chapter 27 Symptom-Based Diagnosis
Purchase Info ?
With CourseSmart eTextbooks and eResources, you save up to 60% off the price of new print textbooks, and can switch between studying online or offline to suit your needs.
Once you have purchased your eTextbooks and added them to your CourseSmart bookshelf, you can access them anytime, anywhere.
Buy Access
Advanced Engine Performance Diagnosis, CourseSmart eTextbook, 5th Edition
Format: Safari Book
$65.99 | ISBN-13: 978-0-13-211390-8