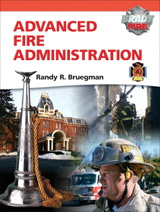 Description
Text only. This product does NOT include a MyFireKit Access Code Card. To purchase the text with a MyFireKit Access Code Card, please use ISBN: 0-13-282439-6
Advanced Fire Administration is a resource for both advanced level fire administration courses and current administrators in the field needing the skills necessary to lead a department in the 21st Century. 2009 Fire Chief of the Year Randy R. Bruegman brings a real world focus as this book covers principles of leadership and management including support elements such as budget and personnel management, team building and managing change, and much more!
Table of Contents
Chapter 1: Our Past is a Window to Our Future
Chapter 2: A Community Approach to Fire Protection and Emergency Services
Chapter 3: The Leadership of Change
Chapter 4: Planning for Organizational Achievement
Chapter 5: An Integrated Approach to Community Risk Management
Chapter 6: Managing in a Changing Environment: Measuring System Performance
Chapter 7: Fiscal Management in Difficult Times
Chapter 8: Effective Personnel Management
Chapter 9: Firefighter Health and Safety: Making a Difference
Chapter 10: National and International Trends in the Fire Service
Chapter 11: The Future: The Legacy of Leadership
Purchase Info
ISBN-10: 0-13-502830-2
ISBN-13: 978-0-13-502830-8
Format: Alternate Binding
This title is currently unavailable on myPearsonStore.
Digital Choices ?
MyLab & Mastering with Pearson eText is a complete digital substitute for a print value pack at a lower price.
MyLab & Mastering ?
MyLab & Mastering products deliver customizable content and highly personalized study paths, responsive learning tools, and real-time evaluation and diagnostics. MyLab & Mastering products help move students toward the moment that matters most—the moment of true understanding and learning.