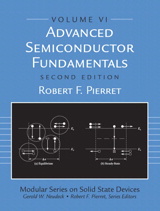 Table of Contents
(NOTE:
Each chapter concludes with References and Problems.
)
1. Basic Semiconductor Properties.
General Material Properties. Crystal Structure.
2. Elements of Quantum Mechanics.
The Quantum Concept. Basic Formalism. Simple Problem Solutions.
3. Energy Band Theory.
Preliminary Considerations. Approximate One-Dimensional Analysis. Extrapolation of Concepts to Three Dimensions.
4. Equilibrium Carrier Statistics.
Density of States. Fermi Function. Supplemental Information. Equilibrium Concentration Relationships. Concentration and E F Calculations.
5. Recombination-Generation Processes.
Introduction. Recombination-Generation Statistics. Surface Recombination-Generation. Supplemental R-G Information.
6. Carrier Transport.
Drift. Diffusion. Equations of State.
Index.