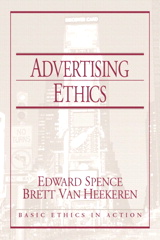 Description
For graduate and undergraduate courses in Media Studies, Communication Ethics, Marketing Ethics, and Business Ethics.
Text focuses on an applied philosophical analysis of the nature of advertising in general and of specific ethical issues that arise in advertising. Includes case studies and refers to current professional codes and practices in the Advertising Industry and contemporary ethical theory. One in the Basic Ethics in Action applied ethics series, edited by Michael Boylan.
Table of Contents
I. ETHICS AND APPLIED ETHICS.
1. Ethical Reasoning and Ethical Principles.
2. Codes of Ethics and Codes of Practice.
II. WHAT IS ADVERTISING?
3. The Nature of Advertising.
4. Advertising and the Media.
5. Advertising and the Community.
III. CURRENT ISSUES AND TRENDS IN ADVERTISING.
6. Truth in Advertising.
7. Stereotyping and Targeting.
8. Endorsements and Testimonials.
9. The Ethics of Time and Space.
10. The Digital Explosion and Its Implications.
IV. WHY ADVERTISING SOMETIMES GOES BAD.
11. The Commodification of Values and the Trivilisation of Social Issues.
V. HOW CAN ADVERTISING BE MADE GOOD?
12. Ethical Advertising.
Purchase Info ?
With CourseSmart eTextbooks and eResources, you save up to 60% off the price of new print textbooks, and can switch between studying online or offline to suit your needs.
Once you have purchased your eTextbooks and added them to your CourseSmart bookshelf, you can access them anytime, anywhere.
Buy Access
Advertising Ethics, CourseSmart eTextbook
Format: Safari Book
$20.99 | ISBN-13: 978-0-13-128892-8