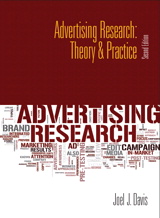 Description
<>
For courses in Advertising Research.
This textbook provides students with the knowledge and skills necessary to be successful advertising professionals in the advertising business. Advertising Research: Theory and Practice distinguishes itself from other advertising research texts in four ways—breadth, depth, integration and currency. This book has been written and structured with the goals of improving student learning and facilitating the application of newly learned material to actual situations. Coverage is divided into two parts. The first part discusses the context in which advertising research is conducted, while the second part presents specific research topics and techniques.
Table of Contents
Part I. Foundations
Chapter 1. The Nature and Process of Research
Chapter 2. Research Ethics
Part II. Sources of Information
Chapter 3. Secondary Research
Chapter 4. Sampling
Part III. Qualitative Research
Chapter 5. Collecting Qualitative Insights
Chapter 6. Focus Groups
Chapter 7. Analysis of Qualitative Data
Part IV. Quantitative Research
Chapter 8. Data Collection through Observation: Human and Automated
Chapter 9. Data Collection through Observation: Biometrics
Chapter 10. Survey Research
Chapter 11. Measurement
Chapter 12. Asking Questions
Chapter 13. Questionnaire Design
Chapter 14. Experiments
Chapter 15. Quantitative Data Analysis: Descriptive Statistics
Chapter 16. Quantitative Data Analysis: Inferential Statistics
Part V. Applied Topics
Chapter 17. Segmentation
Chapter 18. Brand Maps
Chapter 19. Concept and Benefit Testing
Chapter 20. Post-Production Advertising Testing and Optimization
Chapter 21. Presenting Research


Purchase Info ?
With CourseSmart eTextbooks and eResources, you save up to 60% off the price of new print textbooks, and can switch between studying online or offline to suit your needs.
Once you have purchased your eTextbooks and added them to your CourseSmart bookshelf, you can access them anytime, anywhere.
Buy Access
Advertising Research: Theory & Practice, CourseSmart eTextbook, 2nd Edition
Format: Safari Book
$66.99 | ISBN-13: 978-0-13-212835-3