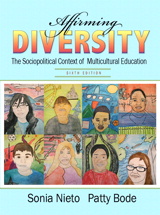 Description
This best-selling text explores the meaning, necessity, and benefits of multicultural education–in a sociopolitical context–for students of all backgrounds.
Sonia Nieto and Patty Bode look at how personal, social, political, cultural, and educational factors affect the success or failure of students in today's classroom. Expanding upon the popular case-study approach, Affirming Diversity: The Sociopolitical Context of Multicultural Education examines the lives of real students who are affected by multicultural education, or the lack of it. This social justice view of multicultural education encourages teachers to work for social change in their classrooms, schools, and communities.
Table of Contents
Part 1: Setting the Stage
Chapter 1 Understanding the Sociopolitical context of Schooling
Chapter 2 Defining Multicultural Education for School Reform
Part 2: Developing a Conceptual Framework for Multicultural Education
Chapter 3 Racism, Discrimination, and Expectations of Students' Achievement
Chapter 4 Structural and Organizational Issues in Classrooms and Schools
Chapter 5 Culture, Identity, and Learning
Chapter 6 Linguistic Diversity in U.S. Classrooms
Chapter 7 Understanding Student Learning and School Achievement
Part 3: Implications of Diversity for Teaching and Learning in a Multicultural Society
Chapter 8 Learning from Students
Chapter 9 Adapting Curriculum for Multicultural Classrooms
Chapter 10 Affirming Diversity: Implications for Teachers, Schools, and Families and Communities
Bibliography
Index
This title is also sold in the various packages listed below. Before purchasing one of these packages, speak with your professor about which one will help you be successful in your course.
Package ISBN-13: 9780132958622
Includes this title packaged with:
Casebook for Exploring Diversity, A, 4th Edition
George L. Redman, Angela Redman
$135.33 | Add to Cart
Package ISBN-13: 9780132958615
Includes this title packaged with:
What Every Teacher Should Know About Multicultural and Global Education
Susan C. Brown, Marcella L. Kysilka
$156.40 | Add to Cart
Purchase Info
Digital Choices ?
MyLab & Mastering with Pearson eText is a complete digital substitute for a print value pack at a lower price.
eTextbook ?
With CourseSmart eTextbooks and eResources, you save up to 60% off the price of new print textbooks, and can switch between studying online or offline to suit your needs.
Once you have purchased your eTextbooks and added them to your CourseSmart bookshelf, you can access them anytime, anywhere.
Print Choices
Alternative Options ?
Click on the titles below to learn more about these options.