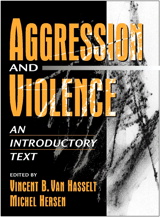 Table of Contents
I.INTRODUCTION AND THEORETICAL PERSPECTIVES.
1.Alisa B. Wilcox, Vincent B. Van Hasselt, and Michel Hersen, Introduction.
2.Richard B. Felson, A Social Psychological Approach to Interpersonal Aggression.
3.Leonard D. Eron, A Psychological Perspective.
4.Charles J. Golden, Michele L. Jackson, Angela Peterson-Rohne, and Samuel T. Gontkovsky, Neuropsychological Factors in Violence and Aggression.
II.SPECIFIC FORMS OF AGGRESSION AND VIOLENCE.
5.John R. Lutzker, Child Abuse.
6.William L. Marshall and Liam E. Marshall, Child Sexual Molestation.
7.Kathryn Kuehnle, Martha Coulter, and Michael Gamache, Incest.
8.Shari Feldbau-Kohn, Julie A. Schumacher, and K. Daniel O'Leary, Partner Abuse.
9.Rosalie S. Wolf, Elder Abuse.
10.Barry M. Maletzky, Sexual Assault.
11.Michael C. Seto and Howard E. Barbaree, Paraphilias.
12.Marc Riedel, Homicide.
13.Wade C. Myers, Ann W. Burgess, Allen G. Burgess, and John E. Douglas, Serial Murder and Sexual Homicide.
III.SPECIAL TOPICS.
14.Brian M. Quigley and Kenneth E. Leonard, Alcohol, Drugs, and Violence.
15.Charles Scott and Philip Resnick, The Prediction of Violence.
Author Index.
Subject Index.