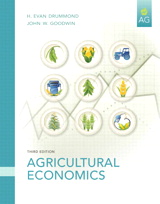 Description
For courses in Introductory Agricultural Economics.
Agricultural Economics, Third Edition, offers a broad view of the food system, emphasizing the links between and among financial institutions, the macro economy, world markets, government programs, farms, agribusinesses, food marketing, and the environment. The text lays out the basic theory of microeconomics with numerous examples from the food and agricultural industries, while its coverage of macroeconomics emphasizes real world applications rather than pure theory. Addressing many topics lightly instead of one or two topics in depth, the text allows flexibility for instructors to "skip around" topics.
Table of Contents
PART I: FOUNDATIONS
1. The Food Industry
2. Introduction to Agricultural Economics
3. Introduction to Market Price Determination
PART II: MICROECONOMICS
4. The Firm as a Production Unit
5. Costs and Optimal Output Levels
6. Supply, Market Adjustments, and Input Demands
7. Imperfect Competition and Government Regulation
8. The Theory of Consumer Behavior
9. The Concept of Elasticity
PART III: MACROECONOMICS
10. Money and Financial Intermediaries
11. The Circular Flow of Income
12. Monetary Policy
13. Fiscal Policy
14. International Trade
15. Agricultural Policy
PAT IV: ADVANCED TOPICS
16. Food Marketing: From Stable to Table
17. Futures Markets
18. Financial Markets
19. Investment Analysis
20. Farm Service Sector
21. The Economics of Market Failure
22. The Malthusian Dilemma
23. Economic Development and Food
Purchase Info ?
With CourseSmart eTextbooks and eResources, you save up to 60% off the price of new print textbooks, and can switch between studying online or offline to suit your needs.
Once you have purchased your eTextbooks and added them to your CourseSmart bookshelf, you can access them anytime, anywhere.
Buy Access
Agricultural Economics, CourseSmart eTextbook, 3rd Edition
Format: Safari Book
$85.99 | ISBN-13: 978-0-13-607195-2