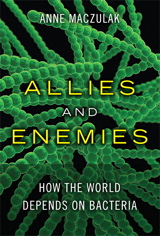 Description
Self-sufficient, invisible, mysterious, deadly — and absolutely essential for all life, including you. They're the Earth's bacteria, and they've been here for four billion years. No other living thing combines their elegant simplicity with their incredibly complex role: bacteria keep us alive, supply our food, and regulate our biosphere. We can't live a day without them, and no chemical, antibiotic, or irradiation has ever successfully eradicated them. We're hopelessly outnumbered by bacteria: there are at least ten times as many bacterial cells in and on your body as there are human cells. They're our partners, like it or not, even though some of them will happily kill us. Allies and Enemies: How the World Depends on Bacteria tells the story of the amazing, intimate partnership. Authored by Anne Maczulak, a microbiologist who's hunted and worked with an extraordinary array of bacteria, it offers a powerful new perspective on Earth's oldest creatures. You'll discover how bacteria work, how they evolve, their surprising contributions and uses, and the roles they've played in human history. No form of life is more important and in Anne Maczulak's hands, no form of life is more fascinating.
Table of Contents
Acknowledgments viii
About the Author ix
Introduction 1
Chapter 1 Why the world needs bacteria 7
Tricks in bacterial survival 9
Bacterial communities 13
Under the microscope 16
The size of life 20
The bacteria of the human body 25
The origins of our bacteria 29
One planet 32
Chapter 2 Bacteria in history 35
The ancients 37
The legacy of bacterial pathogens 39
The plague 42
Microbiologists save the day 46
Unheralded heroes of bacteriology 50
On the front 58
Chapter 3 "Humans defeat germs!"(but not for long) 63
What is an antibiotic? 64
Inventing drugs is like making sausage 68
Mutant wars 73
Bacteria share their DNA 77
The opportunists 78
Chapter 4 Bacteria in popular culture 83
Bacteria and art 83
Bacteria in the performing arts 84
Friends and enemies 89
Do bacteria devour art? 91
Chapter 5 An entire industry from a single cell 99
E. coli 103
The power of cloning 106
A chain reaction 109
Bacteria on the street 112
Anthrax 116
Why we will always need bacteria 117
Chapter 6 The invisible universe 121
Versatility begets diversity 124
Cyanobacteria 128
Bacterial protein factories 131
How to build an ecosystem 135
Feedback and ecosystem maintenance 138
Macrobiology 141
Chapter 7 Climate, bacteria, and a barrel of oil 145
The story of oil 147
Bacteria power 149
How is a cow like a cockroach? 150
Microscopic power plants 154
The waste problem 155
Bacteria on Mars 160
Shaping the planet 162
Epilogue How microbiologists grow bacteria 165
Serial dilution 165
Counting bacteria 167
Logarithms 168
Anaerobic microbiology 169
Aseptic technique 170
Appendix Resources for learning more about bacteria 173
Internet resources on bacteria 173
Book resources on bacteria 173
Classic reading on bacteria 174
Bacteria rule references 175
Index 197
Purchase Info ?
With CourseSmart eTextbooks and eResources, you save up to 60% off the price of new print textbooks, and can switch between studying online or offline to suit your needs.
Once you have purchased your eTextbooks and added them to your CourseSmart bookshelf, you can access them anytime, anywhere.
Buy Access
Allies and Enemies: How the World Depends on Bacteria, CourseSmart eTextbook
Format: Safari Book
$12.99 | ISBN-13: 978-0-13-259836-1