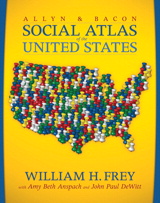 Description
This brief and accessible atlas uses colorful maps, graphs, and some of the best social science data available to survey the leading social, economic, and political indicators of American society.
Table of Contents
1. Our Dynamic Populace
Adding and Subtracting: Regional Population Change
The Newest Americans: Immigration
Pulling Up Stakes: Migration and Mobility
Generations Young and Old: Age Distribution
The Baby Factor: Fertility and Birth Rates
Witnesses to a Century: Americans 65 and Older
Life Expectancy and Mortality
Urban and Rural Living
Marriage and Divorce
Blood, Marriage, or Adoption: Family Structure
2. Race, Ethnicity, and Minority Status
Racial Groups and Inequalities
White Ancestry
Black Americans
Hispanic Americans
Asians and Pacific Islanders
American Indians and Alaskan Natives
Our Segregated Cities
Gay, Lesbian, and Bisexual America
3. Wealth, Income, and Opportunity
Chasing the American Dream
Over Our Heads: Consumer Debt
The Persistence of Poverty
Educational Attainment and Life Chances
Unfinished Business: High School and College Dropouts
Alternatives to Public Education
4. The Economy and Workplace
Earning Our Keep: The American Workforce
Working Overtime: Labor Conditions
The State of the Unions: Organized Labor
Equal Opportunity Employment: Diversity in the Workplace
The Workplace Gender Gap
5. Health and Wellness
Health Insurance: The Haves and Have-Nots
Living on the Edge: Behavioral Risk Factors
A Matter of Life and Death: Cancer
The Threat of Pandemic Disease
Sexually Transmitted Diseases
Battling the Epidemic: AIDS in America
Americans with Disabilities
Mental Health and Disability
6. Politics and Government
The Federal Purse: Government Spending
Exercising Your Right: Voter Participation
Diversity in Government
Defending the Nation: The Military
7. Crime and Law Enforcement
Criminal Activity
Doing Time: Prisoners and Incarceration
The High Price of Vice: Alcohol, Drug Abuse, and Gambling
Risky Business: Teenage Substance Abuse
Children and Crime: Juvenile Delinquency
The Youngest Crime Victims
8. Natural Resources and the Environment
Living Off the Land: Agriculture
From Sea to Shining Sea: Land Use
Hungry for Power: Energy Consumption
Environmental Quality: Pollution and Conservation
The Greenhouse Effect: CO2 Emissions
Heavy Weather: Natural Disasters
9. Modern America
Stuck in Traffic: Commuting and Roadway Congestion
Planes, Trains and Buses: Mass Transportation
Wired America: Computer and Usage
On the Air: Broadcast Media
Purchase Info ?
With CourseSmart eTextbooks and eResources, you save up to 60% off the price of new print textbooks, and can switch between studying online or offline to suit your needs.
Once you have purchased your eTextbooks and added them to your CourseSmart bookshelf, you can access them anytime, anywhere.
Buy Access
Allyn & Bacon Social Atlas of the United States, The, CourseSmart eTextbook
Format: Safari Book
$17.99 | ISBN-13: 978-0-205-58543-4