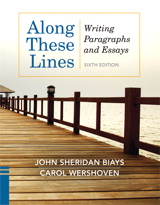 Description
In Along These Lines, authors John Sheridan Biays and Carol Wershoven prepare students for the writing expectations of future courses by providing thorough, step-by-step instruction for key topics: the writing process, grammar, and research. The authors' conversational tone and variety of writing activities, such as peer review and collaborative exercises, make Along These Lines upbeat and interesting for students as they hone their writing skills.
Table of Contents
PART I: WRITING IN STAGES: THE PROCESS APPROACH
1. Writing a Paragraph
2.Illustration
3. Description
4. Narration
5. Process
6. Comparison and Contrast
7. Classification
8. Definition
9. Cause and Effect
10. Argument
11. Writing an Essay
12. Different Essay Patterns
13. Writing from Reading
14. Using Research to Strengthen Essays
PART II: GRAMMAR FOR WRITERS
15. The Simple Sentence
16. Beyond the Simple Sentence: Coordination
17. Avoiding Run-On Sentences and Comma Splices
18. Beyond the Simple Sentence: Subordination
19. Avoiding Sentence Fragments
20. Using Parallelism in Sentences
21. Using Adjectives and Adverbs
22. Correcting Problems with Modifiers
23. Using Verbs Correctly
24. More on Verbs: Consistency and Voice
25. Making Subjects and Verbs Agree
26. Using Pronouns Correctly: Agreement and Reference
27. Using Pronouns Correctly: Consistency and Case
28. Punctuation: The Basics
29. Other Punctuation and Mechanics
30. Spelling
31. Words that Sound Alike/Look Alike
32. Word Choice
33. Sentence Variety
PART IV: READINGS FOR WRITERS
ESL APPENDIX: GRAMMAR PRACTICE FOR NON-NATIVE ENGLISH SPEAKING STUDENTS
Purchase Info
ISBN-10: 0-205-11013-4
ISBN-13: 978-0-205-11013-1
Format: Alternate Binding
Digital Choices ?
MyLab & Mastering with Pearson eText is a complete digital substitute for a print value pack at a lower price.
MyLab & Mastering ?
MyLab & Mastering products deliver customizable content and highly personalized study paths, responsive learning tools, and real-time evaluation and diagnostics. MyLab & Mastering products help move students toward the moment that matters most—the moment of true understanding and learning.
eTextbook ?
With CourseSmart eTextbooks and eResources, you save up to 60% off the price of new print textbooks, and can switch between studying online or offline to suit your needs.
Once you have purchased your eTextbooks and added them to your CourseSmart bookshelf, you can access them anytime, anywhere.