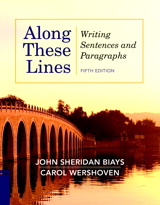 Description
Along These Lines: Writing Sentences and Paragraphs, 5/e prepares developmental writing students for success in future composition courses by offering thorough grammar instruction and in-depth coverage/reinforcement of the writing process. Filled with individual and collaborative exercises as well as practical writing applications, the text begins with the principles of grammar and progresses to comprehensive chapters on crafting paragraphs and short essays. ATL/S&P also includes a chapter on "Writing from Reading," incorporates appealing visuals, offers topical, thought-provoking readings, and provides numerous writing options to engage students as they sharpen their critical- thinking and writing skills.
Table of Contents
Part One: Sentence-Level Skills
1. The Simple Sentence
2. Beyond the Simple Sentence: Coordination
3. Avoiding Run-On Sentences and Comma Splices
4. Beyond the Simple Sentence: Subordination
5. Combining Sentences: A Review of Your Options
6. Avoiding Sentence Fragments
7. Using Parallelism in Sentences
8. Using Adjectives and Adverbs
9. Correcting Problems with Modifiers
10. Verbs: The Four Main Verbs
11. More on Verb Tenses
12. Verbs: Consistency and Voice
13. Making Subjects and Verbs Agree
14. Using Pronouns Correctly: Agreement and Reference
15. Using Pronouns Correctly: Consistency and Case
16. Punctuation
17. Spelling
18. Words that Sound Alike/Look Alike
19. Using Prepositions Correctly
Part II: Writing in Stages: The Process Approach
20. Writing a Paragraph: Prewriting
21. Writing a Paragraph: Planning
22. Writing a Paragraph: Drafting and Revising
23. Writing a Paragraph: Proofreading
24. Writing a Narrative Paragraph
25. Writing a Descriptive Paragraph
26. Writing an Illustration Paragraph
27. Writing a Process Paragraph
28. Moving from Paragraphs to Essays
29. Writing from Reading
Appendix A: Readings for Writers
Appendix B: Grammar Practice for Nonnative Speakers
This title is also sold in the various packages listed below. Before purchasing one of these packages, speak with your professor about which one will help you be successful in your course.
Package ISBN-13: 9780134093260
Includes this title packaged with:
MyWritingLab Generic without Pearson eText -- Valuepack Access Card
. . Pearson Education
$141.07 | Add to Cart
Purchase Info
ISBN-10: 0-205-11020-7
ISBN-13: 978-0-205-11020-9
Format: Alternate Binding
Digital Choices ?
MyLab & Mastering with Pearson eText is a complete digital substitute for a print value pack at a lower price.
MyLab & Mastering ?
MyLab & Mastering products deliver customizable content and highly personalized study paths, responsive learning tools, and real-time evaluation and diagnostics. MyLab & Mastering products help move students toward the moment that matters most—the moment of true understanding and learning.
eTextbook ?
With CourseSmart eTextbooks and eResources, you save up to 60% off the price of new print textbooks, and can switch between studying online or offline to suit your needs.
Once you have purchased your eTextbooks and added them to your CourseSmart bookshelf, you can access them anytime, anywhere.
Print Choices
Loose Leaf Version ?
Books a la Carte are less-expensive, loose-leaf versions of the same textbook.