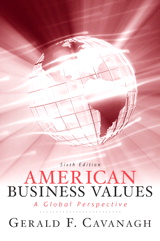 Description
For undergraduate business ethics, social responsibility in business, or business and society courses.

Business is a human endeavor, where every decision and action has a personal result for all individuals involved.

The primary focus of this book is on American business values, but it also examines how those values are influencing people throughout the world, and how American values are, in turn, being influenced by other people. The book helps students to formulate their own values and goals. It challenges them to examine problems and to be aware of biases. It provides the tools to make informed ethical judgments and tells them what is required to form good moral habits and character.

The sixth edition adds new elements that discuss the changing values of industrialized nations and detail the interaction between the values of an employer and employee. Chapters have been updated and rewritten to reflect the latest research and newest trends.


Purchase Info ?
With CourseSmart eTextbooks and eResources, you save up to 60% off the price of new print textbooks, and can switch between studying online or offline to suit your needs.
Once you have purchased your eTextbooks and added them to your CourseSmart bookshelf, you can access them anytime, anywhere.
Buy Access
American Business Values, CourseSmart eTextbook, 6th Edition
Format: Safari Book
$51.99 | ISBN-13: 978-0-13-607831-9