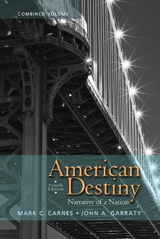 Description
Bridging the present to the past.
American Destiny's mission is to show readers how history connects to the experiences and expectations that mark their lives. The authors pursue that mission through a variety of distinctive features, including American Lives essays and Re-Viewing the Past movie essays. This book is the abridged version of The American Nation, 14th edition.

Note: MyHistoryLab does not come automatically packaged with this text. To purchase MyHistoryLab, please visit www.MyHistoryLab.com or use ISBN: 9780205216550.
Table of Contents
Detailed Contents
Maps and Graphs
Feature Essays
Preface
Supplements for Instructors and Students
About the Authors
Prologue: Beginnings
Chapter 1 Alien Encounters: Europe in the Americas
Chapter 2 American Society in the Making
Chapter 3 America in the British Empire
Chapter 4 The American Revolution
Chapter 5 The Federalist Era: Nationalism Triumphant
Chapter 6 Jeffersonian Democracy
Chapter 7 National Growing Pains
Chapter 8 Toward A National Economy
Chapter 9 Jacksonian Democracy
Chapter 10 The Making of Middle-Class America
Chapter 11 Westward Expansion
Chapter 12 The Sections Go Their Own Ways
Chapter 13 The Coming of the Civil War
Chapter 14 The War to Save the Union
Chapter 15 Reconstruction and the South
Chapter 16 The Conquest of the West
Chapter 17 An Industrial Giant Emerges
Chapter 18 American Society in the Industrial Age
Chapter 19 Intellectual and Cultural Trends in the Late Nineteenth Century
Chapter 20 From Smoke-Filled Rooms to Prairie Wildfire: 1877-1896
Chapter 21 The Age of Reform
Chapter 22 From Isolation to Empire
Chapter 23 Woodrow Wilson and the Great War
Chapter 24 Postwar Sociert and Culture: Change and Adjustment
Chapter 25 From "Normalcy" to Economic Collapse: 1921-1933
Chapter 26 The New Deal: 1933-1941
Chapter 27 War and Peace: 1941-1945
Chapter 28 Collision Courses, Abroad and at Home: 1946-1960
Chapter 29 From Camelot to Watergate: 1961-1975
Chapter 20 Running on Empty: 1975-1991
Chapter 31 From Boomers to Millennials
Chapter 32 Shocks and Responses, 1992-Present
Maps
Index
Purchase Info
ISBN-10: 0-205-79041-0
ISBN-13: 978-0-205-79041-8
Format: Alternate Binding
$106.00
We're temporarily out of stock, but order now and we'll send it to you later.
Back Order
Digital Choices ?
MyLab & Mastering with Pearson eText is a complete digital substitute for a print value pack at a lower price.
MyLab & Mastering ?
MyLab & Mastering products deliver customizable content and highly personalized study paths, responsive learning tools, and real-time evaluation and diagnostics. MyLab & Mastering products help move students toward the moment that matters most—the moment of true understanding and learning.
+ Other Options
eTextbook ?
With VitalSource eTextbooks, you save up to 60% off the price of new print textbooks, and can switch between studying online or offline to suit your needs.
Access your course materials on iPad, Android and Kindle devices with VitalSource Bookshelf, the textbook e-reader that helps you read, study and learn brilliantly. Features include:
See all of your eTextbooks at a glance and access them instantly anywhere, anytime from your Bookshelf - no backpack required.
Multiple ways to move between pages and sections including linked Table of Contents and Search make navigating eTextbooks a snap.
Highlight text with one click in your choice of colors. Add notes to highlighted passages. Even subscribe to your classmates' and instructors' highlights and notes to view in your book.
Scale images and text to any size with multi-level zoom without losing page clarity. Customize your page display and reading experience to create a personal learning experience that best suits you.
Print only the pages you need within limits set by publisher
Supports course materials that include rich media and interactivity like videos and quizzes
Easily copy/paste text passages for homework and papers
Supports assistive technologies for accessibility by vision and hearing impaired users