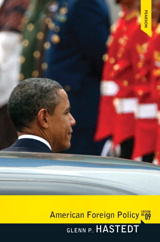 Description
Updated it its 9th edition, American Foreign Policy helps readers understand and evaluate what international issues face the United States and how it responds by emphasizing critical thinking rather than encyclopedic detail.This truly brief text focuses on the foreign policymaking process and its outcomes to build a solid and practical foundation of knowledge. Encouraging the application of lessons learned from case studies of historical and current problems, American Foreign Policy is a clear and succinct introduction to the field and a compelling way to prepare readers to think about America's changing role in the world.
Table of Contents
Chapter 1. Defining American Foreign Policy Problems
Chapter 2. The Global Context
Chapter 3. The American National Style
Chapter 4. Learning from the Past
Chapter 5. Society
Chapter 6. Congress
Chapter 7. Presidency
Chapter 8. Bureaucracy
Chapter 9. Policymaking Models
Chapter 10. Diplomacy
Chapter 11. Economic Instruments
Chapter 12. Military Instruments: Big Wars
Chapter 13. Military Instruments: Small Wars
Chapter 14. Alternative Futures
Purchase Info
ISBN-10: 0-205-85472-9
ISBN-13: 978-0-205-85472-1
Format: Book
This title is currently unavailable on myPearsonStore.