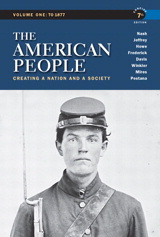 Description
This engaging text examines U.S. history as revealed through the experiences of all Americans, both ordinary and extraordinary. With a thought-provoking and rich presentation, the authors explore the complex lives of Americans of all national origins and cultural backgrounds, at all levels of society, and in all regions of the country. A vibrant four-color design and compact size make this book accessible, convenient, and easy-to read.
Table of Contents
VOLUME I
PART 1 AN EMERGING PEOPLE
1 Ancient America and Africa
2 Europeans and Africans Reach the Americas
3 Colonizing a Continent in the Seventeenth Century
4 The Maturing of Colonial Society
5 Bursting the Bonds of Empire
6 A People in Revolution
7 Consolidating the Revolution
PART 2 AN EXPANDING PEOPLE
8 Currents of Change in the Northeast and the Old Northwest
9 Slavery and the Old South
10 Shaping America in the Antebellum Age
11 Moving West
12 The Union in Peril
13 The Union Severed
14 The Union Reconstructed
VOLUME II
14 The Union Restructured
PART 3 A MODERNIZING PEOPLE
15 The Realities of Rural America
16 The Rise of Smokestack America
17 The New Metropolis
18 Becoming a World Power
19 The Progressives Confront Industrial Capitalism
20 The Great War
21 Affluence and Anxiety
PART 4 A RESILIENT PEOPLE
22 The Great Depression and the New Deal
23 World War II
24 Chills and Fever During the Cold War, 1945-1960
25 Postwar America at Home, 1945-1960
26 Reform and Rebellion in the Turbulent Sixties, 1960-1969
27 Disorder and Discontent, 1969-1980
28 Conservatism and a Shift in Course, 1980-2010
This title is also sold in the various packages listed below. Before purchasing one of these packages, speak with your professor about which one will help you be successful in your course.
Package ISBN-13: 9780205029471
Includes this title packaged with:
MyHistoryLab with Pearson eText -- Valuepack Access Card -- for US History, 2-semester
. . Pearson Education
$89.27 | Add to Cart