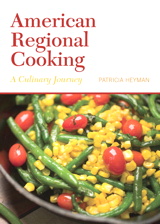 Description
For courses in American Regional Cooking or American Cuisine.
American Regional Cooking: A Culinary Journey examines America's regions and cooking styles–providing an understanding of not only their flavor concepts, but how the cuisines developed and evolved. A companion text to International Cooking: A Culinary Journey, it follows a concise format that explains the history, topography, prevalent foods, ingredients, cooking methods, and characteristics of specific states and entire regions. Over 200 tested recipes cover all segments of the menu, with many offering contemporary twists to traditional dishes. Wine pairings, accompanying photographs, and sidebars heighten the students' understanding of each cuisine and make it an excellent reference during their own culinary journey.
Table of Contents
Table of Contents:
1. History
2. New England
Maine, Vermont, New Hampshire, Massachusetts, Connecticut, and Rhode Island
3. Middle Atlantic States
New York, Pennsylvania, New Jersey, Delaware, and Maryland
4. Southern States
Virginia, West Virginia, North Carolina, South Carolina, Kentucky, Tennessee, Georgia, Alabama, Mississippi, and Arkansas
5. Florida
6. Louisiana
7. Midwestern States
Wisconsin, Michigan, Ohio, Indiana, Illinois, Minnesota, Iowa and Missouri
8. Plains States
North Dakota, South Dakota, Nebraska, Kansas, and Oklahoma
9. Southwestern States
Texas, New Mexico, and Arizona
10. Mountain States
Montana, Wyoming, Colorado, Idaho, Utah, and Nevada
11. Pacific Northwest, Alaska, and Hawaii
Washington, Oregon, Alaska, and Hawaii
12. California
13. The Melting Pot
Purchase Info ?
With CourseSmart eTextbooks and eResources, you save up to 60% off the price of new print textbooks, and can switch between studying online or offline to suit your needs.
Once you have purchased your eTextbooks and added them to your CourseSmart bookshelf, you can access them anytime, anywhere.
Buy Access
American Regional Cooking, CourseSmart eTextbook
Format: Safari Book
$59.99 | ISBN-13: 978-0-13-500605-4