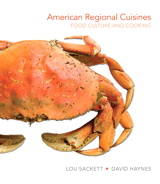 Description
For courses in American Regional Cooking or American Cuisine.
Filled with colorful recipes and comprehensive information on American food culture and history, this book provides an overview of American Regional Cooking for the Professional Chef. Featuring over 300 master recipes, it examines the culture, products and cuisine of fifteen culinary regions–from New England to Hawaii–and the micro-cuisines that exist within each region. Designed for the working chef, its recipes offer an ideal format based on how professionals actually cook in restaurants. The authors' foodservice and education backgrounds give the book the scholarly knowledge and the professional experience needed to make it an authentic reference that meets the demands of today's culinary students.
Table of Contents
Preface
Advice to Students
About the Authors
CHAPTER ONE KEYS TO UNDERSTANDING REGIONAL CUISINES
CHAPTER TWO THE PLANTATION SOUTH
CHAPTER THREE NEW ENGLAND
CHAPTER FOUR THE MID-ATLANTIC
CHAPTER FIVE THE CHESAPEAKE BAY SHORE
CHAPTER SIX LOUISIANA
CHAPTER SEVEN THE MEXICAN BORDER
CHAPTER EIGHT THE APPALACHIAN SOUTH
CHAPTER NINE THE CENTRAL FARMLANDS AND CITIES
CHAPTER TEN THE WESTERN AND CENTRAL RANCHLANDS
CHAPTER ELEVEN THE ROCKY MOUNTAINS AND GREAT BASIN
CHAPTER TWELVE ANGLO-ASIAN CALIFORNIA
CHAPTER THIRTEEN THE PACIFIC NORTHWEST
CHAPTER FOURTEEN HAWAI'I
CHAPTER FIFTEEN SOUTH FLORIDA AND PUERTO RICO
CHAPTER SIXTEEN NEW YORK CITY
CHAPTER SEVENTEEN AMERICA'S NATIONAL CUISINE
GLOSSARY
RECIPE INDEX
SUBJECT INDEX
Purchase Info ?
With CourseSmart eTextbooks and eResources, you save up to 60% off the price of new print textbooks, and can switch between studying online or offline to suit your needs.
Once you have purchased your eTextbooks and added them to your CourseSmart bookshelf, you can access them anytime, anywhere.
Buy Access
American Regional Cuisines: Food Culture and Cooking, CourseSmart eTextbook
Format: Safari Book
$52.99 | ISBN-13: 978-0-13-500563-7