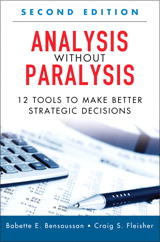 Description
Since the publication of the original edition, the importance of interpreting business data has become mission critical for professionals in all types of businesses. These professionals have discovered the benefits of business analysis to address their organizations most crucial strategic and tactical challenges. The Second Edition of this successful guide to business analysis, shows readers how to apply analytical tools without having to mire themselves in advanced math or arcane theory. Analysis Without Paralysis teaches readers the fundamentals of business analysis through the use of 12 core tools. Each tool will make the way readers assess and interpret their business' data more effective, accurate, and actionable. Accessibly written, the authors walk readers through the entire business analysis process and then explain each of today's most valuable analysis tools so business professionals will be able to make better decisions about their company's strategy and operations--and achieve better results. The Second Edition includes three new analytical tools and updates all of the prior edition's data and examples. For each tool, the authors present clear descriptions, context, rationales, strengths, weaknesses, step-by-step instructions, and case study examples.
"This title should be on any business manager's shelf wanting to make better decisions using analysis."
--UK Competitive Intelligence Forum (UK CIF)
Table of Contents
Acknowledgments ix
About the Authors xi
Chapter 1 The Role of Analysis in Business Management 1
The Increasing Need for Effective Analysis 7
Concluding Observations 9
Chapter 2 The Analysis Process 13
What Is Analysis? 16
Chapter 3 BCG Growth/Share Portfolio Matrix 23
Description and Purpose 23
Link to the Experience Curve 24
Link to the Product Life Cycle 25
Combining the Experience Curve and Product Life Cycle 26
Strengths 29
Weaknesses 30
How to Do It 32
Case Study: Google as Viewed in a BCG Portfolio Planning Matrix 39
Chapter 4 Competitor Analysis 45
Description and Purpose 45
Strengths 47
Weaknesses 47
How to Do It 48
Case Study: Chinese Mobile Phone Market 59
Chapter 5 Driving Forces Analysis 63
Description and Purpose 63
Strengths 64
Weaknesses 65
How to Do It 66
Case Study: Driving Forces in the Digital Music Market 75
Chapter 6 Financial Ratios and Statement Analysis 81
Description and Purpose 81
Basic Concepts Underlying Financial Ratio and Statement Analysis (FRSA) 81
Components of Financial Statements 82
Assessing the Appropriateness of Ratios 83
Strengths 84
Weaknesses 84
How to Do It 86
Activity or Efficiency Ratios 87
Leverage or Solvency Analysis Ratios 90
Liquidity Analysis Ratios 91
Profitability Analysis Ratios 93
Other Analysis Ratios: Capital Market or Shareholder Returns 95
Methods of Ratio or Measure Comparison 98
Consolidation and Segmented Analysis 102
Case Study: FRSA of the Three Large North American Warehouse Clubs 104
Chapter 7 Five Forces Industry Analysis 109
Description and Purpose 109
Threat of New Entrants 111
Bargaining Power of Suppliers 112
Bargaining Power of Buyers 113
Threat of Substitute Products or Services 114
Degree of Rivalry Among Existing Players 115
Strengths 116
Weaknesses 117
How to Do It 118
Case Study: Applying the Five Forces Model to the U.S. Passenger Airline Industry 120
Case Study: Applying the Five Forces Model to the Global Pharmaceutical Industry 123
Chapter 8 Issue Analysis 127
Description and Purpose 127
Strengths 129
Weaknesses 130
How to Do It 131
Examples of Issue Analysis in Practice 144
Chapter 9 Product Life Cycle Analysis 147
Description and Purpose 147
Strengths 156
Weaknesses 157
How to Do It 158
Case Study: Apple's Product Life Cycles and Growth Potential from the iPod to the iPad 163
Endnotes 165
Chapter 10 Scenario Analysis 167
Description and Purpose 167
Methods for Generating Scenarios 168
Strengths 172
Weaknesses 173
How to Do It 174
Case Study: Scenarios for Traditional and Emerging Forest Products Enterprises 179
Endnotes 184
Chapter 11 Macroenvironmental (STEEP/PEST) Analysis 187
Description and Purpose 187
Strengths 191
Weaknesses 192
How to Do It 193
Case Study: STEEP Analysis of the Life and Death of Brands 197
Chapter 12 SWOT Analysis 199
Description and Purpose 199
Strengths 202
Weaknesses 202
How to Do It 204
Case Study: Lockheed Martin Corporation 213
Endnote 222
Chapter 13 Value Chain Analysis 223
Description and Purpose 223
Strengths 229
Weaknesses 230
How to Do It 231
Case Study: Value Chain Analysis of Walmart Stores 242
Chapter 14 Win/Loss Analysis 249
Description and Purpose 249
Strengths 250
Weaknesses 252
How to Do It 254
Win/Loss Case Study: Email Marketing Solutions 260
Index 263
Purchase Info
ISBN-10: 0-13-308631-3
ISBN-13: 978-0-13-308631-7
Format: eBook (Watermarked)?
This eBook includes the following formats, accessible from your Account page after purchase:
EPUBThe open industry format known for its reflowable content and usability on supported mobile devices.
MOBIThe eBook format compatible with the Amazon Kindle and Amazon Kindle applications.
PDFThe popular standard, used most often with the free Adobe® Reader® software.
This eBook requires no passwords or activation to read. We customize your eBook by discreetly watermarking it with your name, making it uniquely yours.
Includes EPUB, MOBI, and PDF
$36.99
Add to Cart