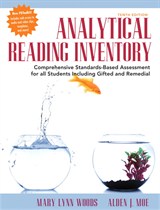 Description
The Analytical Reading Inventory, 10/e (ARI) is a thorough, research-based, diagnostic informal reading inventory for measuring the reading progress of typical, remedial, and gifted readers. With clear, step-by-step instructions for administration, it includes everything needed for classroom assessment and direct, relevant advice about instructional intervention. It is comprised of a series of literary and informational text reading passages of increasing difficulty, from pre-primer to level nine, and can be used with all readers from the very young to high school students. Two assessment scenarios are included along with a case study and the ARI Quick Assessment, Examiner's Passage and Summary Record Sheets, the PDToolkit website, and Common Core-aligned instructional strategies for each of its five assessment and instructional elements.
Table of Contents
SECTION I OVERVIEW
SECTION II EXAMINER'S PASSAGE AND SUMMARY RECORD SHEETS MODEL
SECTION III ARI FOR YOUR REFERENCE
SECTION IV DIRECTIONS– READING LEVELS INDEPENDENT THROUGH FRUSTRATION
SECTION V DIRECTIONS– SUMMARIZE DATA, IDENTIFY INSTRUCTIONAL FOCUS, AND REPORT RESULTS
SECTION VI ARI QUICK ASSESSMENTS
SECTION VII TRANSITION TO INSTRUCTION
SECTION VIII ARI DEVELOPMENT AND VALIDATION
SECTION IX APPENDIX
SECTION X MODEL CASE STUDY – READING LEVELS INDPENDENT THROUGH FRUSTRTION
SECTION XI EXAMINER'S RECORD SHEETS
This title is also sold in the various packages listed below. Before purchasing one of these packages, speak with your professor about which one will help you be successful in your course.
Package ISBN-13: 9780134046372
Includes this title packaged with:
What Every Teacher Should Know About: English Language Learners
Nancy L. Hadaway, Sylvia M. Vardell, Terrell A. Young
What Every Teacher Should Know About: Professionalism in Teaching, 3rd Edition
Beth Hurst, Ginny Reding
50 Literacy Strategies: Step-by-Step, 4th Edition
Gail E. Tompkins
$124.47 $118.25 | Add to Cart