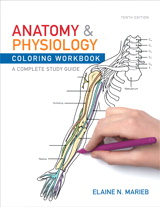 Description
Written by Elaine Marieb, this study guide can be used independently or in conjunction with any A&P book. It is designed to help you get the most out of your A&P classes and consists of a variety of activities that will engage you while helping you learn anatomy and physiology. Coloring activities, At the Clinic application questions and Incredible Journey visualization exercises ask you to imagine yourself in miniature traveling through the human body, providing ample opportunities to practice what you've learned.
The Tenth Edition is thoroughly updated with new At the Clinic application questions and Finale: Multiple Choice questions throughout and new coloring activities featuring new artwork.
Table of Contents
1. The Human Body: An Orientation
2. Basic Chemistry
3. Cells and Tissues
4. Skin and Body Membranes
5. The Skeletal System
6. The Muscular System
7. The Nervous System
8. Special Senses
9. The Endocrine System
10. Blood
11. The Cardiovascular System
12. The Lymphatic System and Body Defenses
13. The Respiratory System
14. The Digestive System and Body Metabolism
15. The Urinary System
16. The Reproductive System
Answers
This title is also sold in the various packages listed below. Before purchasing one of these packages, speak with your professor about which one will help you be successful in your course.
Purchase Info
ISBN-10: 0-321-74305-9
ISBN-13: 978-0-321-74305-3
Format: Student Supplement
This publication is not currently for sale.
Digital Choices ?
MyLab & Mastering with Pearson eText is a complete digital substitute for a print value pack at a lower price.
eTextbook ?
With CourseSmart eTextbooks and eResources, you save up to 60% off the price of new print textbooks, and can switch between studying online or offline to suit your needs.
Once you have purchased your eTextbooks and added them to your CourseSmart bookshelf, you can access them anytime, anywhere.