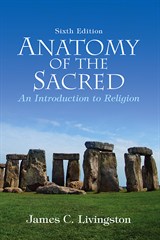 Description
For one-semester, undergraduate courses in Introduction to Religion and Comparative Religion.
This comprehensive text introduces students to the nature and variety of religious phenomena, belief, and practice. It shows the ways religion is studied, a cross-cultural study of the variety of history forms of religious belief and practice, such as deity conceptions at the divine myth, ritual scripture, rites of passage, views of the human problem evil, and the ways and goals of an examination of the challenges faced by religion today.
Table of Contents
Anatomy of the Sacred: An Introduction to Religion, 6th Edition
PART I) THE STUDY OF RELIGION:
1) What is Religion?
2) Ways of Studying Religion

PART II) UNIVERSAL FORMS OF RELIGIOUS EXPERIENCE AND EXPRESSION
3) The Sacred and the Holy
4) Sacred Symbol, Myth, and Doctrine
5) Sacred Ritual
6) Sacred Scripture
7) Society and the Sacred: The Social Formations and Transformations of Religion
PART III) UNIVERSAL COMPONENTS OF A RELIGIOUS WORLDVIEW
8) Deity: Concepts of the Divine and Ultimate Reality
9) Cosmogony: Origins of the Natural and Social Order
10) Views of the Human Problem
11) Theodicy: Encountering Evil
12) Ethics: Patterns of Moral Action
13) Soteriology: Ways and Goals of Salvation and Liberation
PART IV) THE SACRED AND THE SECULAR IN MODERNITY
14) Secularization - New Religious Revitalization Movements - COntemporary Religious Fundamentalism
15) Contemporary Challenges to Traditional Religion: The Status and the Roles of Women - Relations Between Religion and the State