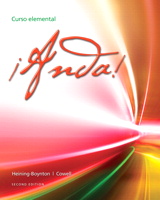 Description
DESCRIPTION
Designed with you in mind
The ¡Anda! program¿is based on the National Foreign Language Standards. The five organizing principles (the 5C's) of the Standards for language teaching and learning are at the core of ¡Anda!: Communication, Cultures, Connections, Comparisons, and Communities. Each chapter opener identifies for the instructor where and in what capacity each of the 5C's are addressed.
Teaching and Learning Experience
The ¡Anda! program provides practical responses to the challenges today's Spanish instructors are facing. Its innovations center around three key areas:
Realistic goals with a realistic approach
Focus on student motivation
Tools to promote success
Table of Contents
| | |
| --- | --- |
| Preliminar A: Para empezar | Preliminar B: Introducciones y repasos |
| 1: ¿Quiénes somos? | 7: ¡A comer! |
| 2: La vida universitaria | 8: ¿Qué te pones? |
| 3: Estamos en casa | 9: Estamos en forma |
| 4: Nuestra comunidad | 10: ¡Viajemos! |
| 5: ¡A divertirse! La música y el cine | 11: El mundo actual |
| 6: ¡Sí, lo sé! | 12: Y por fin, ¿lo sé! |
Purchase Info ?
With CourseSmart eTextbooks and eResources, you save up to 60% off the price of new print textbooks, and can switch between studying online or offline to suit your needs.
Once you have purchased your eTextbooks and added them to your CourseSmart bookshelf, you can access them anytime, anywhere.
Buy Access
¡Anda! Curso elemental, CourseSmart eTextbook, 2nd Edition
Format: Safari Book
$82.99 | ISBN-13: 978-0-205-24659-5