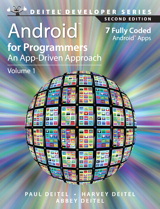 Description
The professional programmer's Deitel
®
guide to smartphone and tablet app development using Android 4.3 and 4.4, the Eclipse-based Android Development Tools and the new Android Studio
Billions of apps have been downloaded from Google Play™! This book gives you everything you'll need to start developing great Android apps quickly and getting them published on Google Play™. The book uses an app-driven approach–each new technology is discussed in the context of seven fully tested Android apps, complete with syntax coloring, code highlighting, code walkthroughs and sample outputs. Apps you'll develop include:
Welcome App
Cannon Game
Tip Calculator
Doodlz
Twitter® Searches
Address Book
Flag Quiz
The first-generation Android phones were released in October 2008. By October 2013, a Strategy Analytics report showed that Android had 81.3% of the global smartphone market share, compared to 13.4% for Apple, 4.1% for Microsoft and 1% for Blackberry (bit.ly/1aqIZXf). Billions of apps have been downloaded from Google Play. There are now more than one billion activated Android devices worldwide and more than 1.5 million Android devices are being activated daily (venturebeat.com/2013/09/03/android-hits-1bactivations-and-will-be-called-kitkat-in-nextversion). The opportunities for Android app developers are enormous.
This book presents leading-edge computing technologies for professional software developers. At the heart of the book is the Deitel "app-driven approach"–concepts are presented in the context of complete working Android apps, rather than using code snippets. The introduction and app test drives at the beginning of each chapter show one or more sample executions. The book's source code is available at www.deitel.com/books/androidfp2.
The apps in this book were carefully designed to introduce you to key Android features and APIs. You'll quickly learn everything you need to start building Android apps–beginning with a testdrive of the Doodlz app in Chapter 1, then building your first app in Chapter 2. By the time you reach Chapter 9, you'll be ready to create your own apps for submission to Google Play and other app marketplaces. You'll master the Google Play submission process, including uploading your apps, deciding whether to sell your apps or offer them for free, and marketing them using in-app advertising, social media, Internet public relations and more.
Practical, example-rich coverage of:
Android 4.3 and 4.4
Android Development Tools, Android Studio
Supporting Various Screen Sizes/Resolutions
Accessibility, Internationalization, Graphics
Activities, Fragments, Intents, Preferences
GUIs, Layouts, Menus, Resource Files, Lists, Adapters, Events, Touch/Gesture Processing
Immersive Mode, Printing Framework, PrintHelper
Assets (Images, Audio), View Animation
Threading, Collections, SQLite Database
Social sharing via implicit intents
Google Play™, App Publishing, Pricing, Monetization, Marketing, In-App Advertising, In-App Billing and more.
Visit www.deitel.com
Download code examples
For information on Deitel's Dive Into® Series programming training courses delivered at organizations worldwide visit www.deitel.com/training or write to deitel@deitel.com
Join the Deitel social networking communities on Facebook® at deitel.com/DeitelFan, Twitter® @deitel, Google+™ at google.com/+DeitelFan, LinkedIn® at bit.ly/DeitelLinkedIn, YouTube™ at youtube.com/user/DeitelTV and subscribe to the Deitel® Buzz Online e-mail newsletter at www.deitel.com/newsletter/ subscribe.html
The Deitel® Developer Series is designed for professional programmers. The series presents focused treatments on a growing list of emerging and mature technologies, including Android™ app development, iOS® app development, Java™, C# and .NET, C++, C, JavaScript®, Internet and web development and more. Each book in the series contains the same live-code teaching methodology used in the Deitels' How to Program Series college textbooks–most concepts are presented in the context of completely coded, working apps.

Deitel & Associates is an internationally recognized authoring and corporate training organization specializing in Android
™
and iOS
®
app development, programming languages, object technology and Internet and web software technology. The company offers instructor-led courses delivered at client sites worldwide on programming languages and platforms, such as Android™ app development, iOS
®
app development, Java
™
, Objective-C, C#, Visual Basic®, Visual C++
®
, C++, C, XML, Python, Perl
®
, object technology, Internet and web programming, and a growing list of additional programming and software-development courses. The founders of Deitel & Associates, Inc., are Paul Deitel and Dr. Harvey Deitel. The company's training clients include many of the world's largest corporations, government agencies, branches of the military and academic institutions. To learn more about Deitel & Associates, Inc., its professional books, college textbooks, e-books and LiveLessons video training, and its worldwide Dive-Into
®
Series instructor-led, on-site training curriculum, visit
www.deitel.com/training
or send an email to
deitel@deitel.com
. Join the Deitel social media communities on Facebook® (www.deitel.com/DeitelFan), Twitter
®
(@deitel), Google+
™
(
google.com/+DeitelFan
), LinkedIn® (bit.ly/DeitelLinkedIn) and YouTube
™
(
youtube.com/user/DeitelTV
), and subscribe to the Deitel
®
Buzz Online newsletter (
www.deitel.com/newsletter/subscribe.html
).
Table of Contents
Preface xiv
Before You Begin xxiii
Chapter 1: Introduction to Android 1
1.1 Introduction 2
1.2 Android–The World's Leading Mobile Operating System 3
1.3 Android Features 3
1.4 Android Operating System 7
1.5 Downloading Apps from Google Play 11
1.6 Packages 12
1.7 Android Software Development Kit (SDK) 13
1.8 Object-Oriented Programming: A Quick Refresher 16
1.9 Test-Driving the Doodlz App in an Android Virtual Device (AVD) 19
1.10 Building Great Android Apps 30
1.11 Android Development Resources 32
1.12 Wrap-Up 34
Chapter 2: Welcome App 35
2.1 Introduction 36
2.2 Technologies Overview 37
2.3 Creating an App 38
2.4 Android Developer Tools Window 44
2.5 Building the App's GUI with the Graphical Layout Editor 48
2.6 Running the Welcome App 56
2.7 Making Your App Accessible 57
2.8 Internationalizing Your App 59
2.9 Wrap-Up 63
Chapter 3: Tip Calculator App 64
3.1 Introduction 65
3.2 Test-Driving the Tip Calculator App 66
3.3 Technologies Overview 67
3.4 Building the App's GUI 70
3.5 Adding Functionality to the App 79
3.6 AndroidManifest.xml 87
3.7 Wrap-Up 88
Chapter 4: Twitter® Searches App 89
4.1 Introduction 90
4.2 Test-Driving the App 91
4.3 Technologies Overview 97
4.4 Building the App's GUI 100
4.5 Building the MainActivity Class 109
4.6 AndroidManifest.xml 124
4.7 Wrap-Up 124
Chapter 5: Flag Quiz App 125
5.1 Introduction 126
5.2 Test-Driving the Flag Quiz App 128
5.3 Technologies Overview 132
5.4 Building the GUI and Resource Files 136
5.5 MainActivity Class 147
5.6 QuizFragment Class 153
5.7 SettingsFragment Class 165
5.8 SettingsActivity Class 166
5.9 AndroidManifest.xml 166
5.10 Wrap-Up 167
Chapter 6: Cannon Game App 168
6.1 Introduction 169
6.2 Test-Driving the Cannon Game App 171
6.3 Technologies Overview 171
6.4 Building the App's GUI and Resource Files 173
6.5 Class Line Maintains a Line's Endpoints 175
6.6 MainActivity Subclass of Activity 176
6.7 CannonGameFragment Subclass of Fragment 176
6.8 CannonView Subclass of View 178
6.9 Wrap-Up 196
Chapter 7: Doodlz App 198
7.1 Introduction 199
7.2 Technologies Overview 201
7.3 Building the App's GUI and Resource Files 203
7.4 MainActivity Class 211
7.5 DoodleFragment Class 212
7.6 DoodleView Class 219
7.7 ColorDialogFragment Class 231
7.8 LineWidthDialogFragment Class 234
7.9 EraseImageDialogFragment Class 238
7.10 Wrap-Up 239
Chapter 8: Address Book App 241
8.1 Introduction 242
8.2 Test-Driving the Address Book App 245
8.3 Technologies Overview 245
8.4 Building the GUI and Resource Files 247
8.5 MainActivity Class 255
8.6 ContactListFragment Class 261
8.7 AddEditFragment Class 268
8.8 DetailsFragment Class 274
8.9 DatabaseConnector Utility Class 282
8.10 Wrap-Up 287
Chapter 9: Google Play and App Business Issues 289
9.1 Introduction 290
9.2 Preparing Your Apps for Publication 290
9.3 Pricing Your App: Free or Fee 295
9.4 Monetizing Apps with In-App Advertising 297
9.5 Monetizing Apps: Using In-App Billing to Sell Virtual Goods 298
9.6 Registering at Google Play 299
9.7 Setting Up a Google Wallet Merchant Account 300
9.8 Uploading Your Apps to Google Play 301
9.9 Launching the Play Store from Within Your App 302
9.10 Managing Your Apps in Google Play 303
9.11 Other Android App Marketplaces 303
9.12 Other Popular Mobile App Platforms 303
9.13 Marketing Your Apps 304
9.14 Wrap-Up 308
Index 310
Purchase Info
Digital Choices ?
MyLab & Mastering with Pearson eText is a complete digital substitute for a print value pack at a lower price.
eBook (Watermarked) ?
Includes EPUB, MOBI, and PDF
This eBook includes the following formats, accessible from your Account page after purchase:
EPUBThe open industry format known for its reflowable content and usability on supported mobile devices.
MOBIThe eBook format compatible with the Amazon Kindle and Amazon Kindle applications.
PDFThe popular standard, used most often with the free Adobe® Reader® software.
This eBook requires no passwords or activation to read. We customize your eBook by discreetly watermarking it with your name, making it uniquely yours.