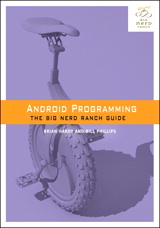 Description
In this book, The Big Nerd Ranch's legendary trainers take students on an easy-to-follow tour of the Android mobile development platform. Step by step, students learn how to write and run robust, efficient code -- starting with simple programs, and then enhancing them with increasingly sophisticated features from throughout the Android SDK. Succinct, engaging, and enlightening, these chapters and exercises build a complete working knowledge of the key concepts and APIs needed to efficiently create compelling apps with today's Android development tools. Each chapter has been carefully designed to provide the tools and knowledge students need to dive into Android development. Better still, the material has been tested and refined in Big Nerd Ranch's popular Android classes.
Table of Contents
1. Your First Android Application
2. Android and Model-View-Controller
3. The Activity Lifecycle
4. Debugging Android Apps
5. Your Second Activity
6. Android SDK Versions and Compatibility
7. UI Fragments and the Fragment Manager
8. Creating User Interfaces with Layouts and Widgets
9. Displaying Lists with ListFragment
10. Using Fragment Arguments
11. Using ViewPager
12. Dialogs
13. Audio Playback Using MediaPlayer
14. Retained Fragments
15. Localization
16. The Action Bar
17. Saving and Loading Local Files
18. Context Menus and Contextual Action Mode
19. Camera I: Viewfinder
20. Camera II: Taking Pictures and Handling Images
21. Implicit Intents
22. Two-Pane Master-Detail Interfaces
23. More About Intents And Tasks
24. Styles And Includes
25. XML Drawables And 9-Patches
26. HTTP & Background Tasks
27. Loopers, Handlers, and HandlerThread
28. Search
29. Background Services
30. Broadcast Intents
31. Browsing The Web & WebView
32. Custom Views and Touch Events
33. Tracking the Device's Location
34. Local Databases with SQLite
35. Loading Asynchronous Data With Loaders
36. Using Maps
Purchase Info ?
With CourseSmart eTextbooks and eResources, you save up to 60% off the price of new print textbooks, and can switch between studying online or offline to suit your needs.
Once you have purchased your eTextbooks and added them to your CourseSmart bookshelf, you can access them anytime, anywhere.
Buy Access
Android Programming: The Big Nerd Ranch Guide, CourseSmart eTextbook
Format: Safari Book
$24.49 | ISBN-13: 978-0-13-286914-0