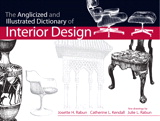 Description
Appropriate as a working tool for Interior Designers as well as professionals in related fields.
The Anglicized and Illustrated Dictionary of Interior Design includes traditional, historic, and modern day terminology ranging from pre-classical to present day. The scope of the words, articulated with precise anglicized definitions that include illustrations where appropriate, will prove to be an invaluable resource to the professional and amateur alike.
Table of Contents
Preface
Guide to Pronunciation
Dictionary of Words
Architects, Artists, and Designers
Appendix
Wall Division
Door Detail
Chair Parts
Case Piece Detailed
Architectural Orders
Joints
Legs
Feet
Moldings
Motifs/Ornaments
Pediments
This title is also sold in the various packages listed below. Before purchasing one of these packages, speak with your professor about which one will help you be successful in your course.
Package ISBN-13: 9780133111361
Includes this title packaged with:
Architecture and Interior Design: An Integrated History to the Present
Buie Harwood, Bridget May, Curt Sherman
$122.60 | Add to Cart